Helpshift CEO Abinash Tripathy On Taking The Customer Support Industry By Storm
By - CrazyEngineers • 7 years ago • 71.2k views
A couple of years ago, we featured Helpshift CTO Baishampayan Ghose on Founders Circuit and this time, we are back with the startup's CEO - Mr. Abinash Tripathy in an one-one-one conversation with us.
Deemed as the world's leading customer support platform for mobile and web, Helpshift has grown to a multi-million dollar business since its inception over the last 4 years. Their amazing products that feature in-app chat, a full CRM ticketing system, in-app campaigns, and in- app surveys have helped 100s of companies around the world deliver customer support in the best possible way.
Over the last two years, Helpshift has seen over 300% revenue growth and last month they raised $23 Million in a Series B round with participation from new investors, Microsoft Ventures and Salesforce Ventures in addition to the existing investors, including Intel Capital, Nexus Venture Partners, True Ventures and Visionnaire Ventures—bringing the total capital raised to $36.2 Million.
In this exclusive interview with CrazyEngineers, we got Abinash to talk about the motivation behind his company, the products he is the most proud of, how they hire and a lot more! Read on!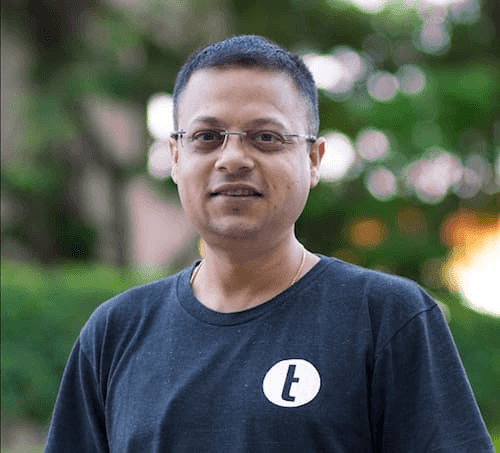 Abinash Tripathy, CEO and Co-founder - Helpshift
CE: Tell us about your family background and growing up years.
Abinash Tripathy: My father was a bureaucrat and my sister and I grew up in Chennai. We had an interesting, fun, childhood that was influenced by thought provoking conversations with intelligent folks.
CE: Tell us more about your professional experience before Helpshift.
Abinash Tripathy: I've had the pleasure of working with hugely established and successful companies such as Oracle, Sun and Yahoo! I have 20+ years of experience in technology, mobile and internet. Prior to Helpshift, I helped set up the Indian division of Zimbra, Inc and watched it grow to 40 employees. I was also an early employee at Openwave Systems Inc., the pioneers of the Mobile Internet 1.0 (WAP). At Openwave, I helped in conceptualizing and delivering the world's first IP based Voicemail/Unified communications, Mobile Photo Messaging (in Japan) and MMS products to the market. I started my career as a technologist at Oracle Corporation and worked on Oracle's first internal CRM in 1995 (before the CRM industry was born).
CE: What was the motivation behind starting Helpshift? How did the idea first strike you? Tell us about the story of its inception.
Abinash Tripathy: Customer Support has been one of the most difficult aspects to deal with- for companies and consumers. It's a sore issue with all of us as customers. In an effort to make it more convenient and easier, companies spend huge sums of money on contact centres ($350B annually to be precise) and customer relationship management platforms and technologies ($30B annually). And, it has still been a struggle for many. Addressing this pain point led to the beginning of Helpshift.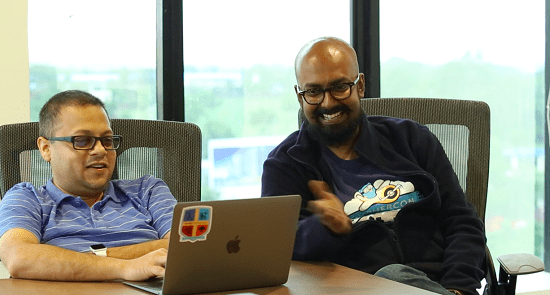 Abinash Tripathy & Baishampayan Ghose, Co-Founders - Helpshift
CE: What key problem is Helpshift trying to solve? How does Helpshift system work?
Abinash Tripathy: Companies are seeing that mobile can be a hugely strategic customer channel. They then invest top dollar to build a storefront (called an app) and acquire these mobile users.
Helpshift sits inside of their app to ensure those new expensive customers remain engaged (through targeted push campaigns), and proactively avoid any in-app frustration through native FAQs and In-App Messaging.
Happy, engaged users spend more money in-app, and are more loyal to the app, in an age where many brands' services are commoditized in a crowded app store environment.
Helpshift is your standard fast paced SaaS Tech Company. Our pricing is based on the number of MAUs (mobile app users).
CE: Tell us more about Proactive Support, Agent Support and Self Service. What other products of Helpshift are you the most proud of?
Abinash Tripathy: Customer Service is a very reactive industry. Most companies do not invest in great customer service and just want to get away by doing the bare minimum. This recent NYTimes article captures the essence of this problem.
The problem with customer service today is that there is that all customers and their issues are treated with the same priority causing inefficiencies in the process. With traditional customer service the contact centers are mostly operating blind. When customer service is tightly integrated into an app or a website, it is possible to capture a lot of data and context about what the user is trying to do. This data makes all the difference in the quality of the customer experience.
If a contact centre has telemetry or data about their user in real-time, they can do things that bring in efficiency into the process. For example, if they are having an issue that is affecting several customers, they can proactively send a message to those users to prevent them from contacting customer support. Most contact centres are not setup to contact their customers in an outbound manner.
Most customers also don't want to talk to a human agent and want to be able to help themselves. Most companies do not invest in self-service enough. This really needs to be a high priority for every company.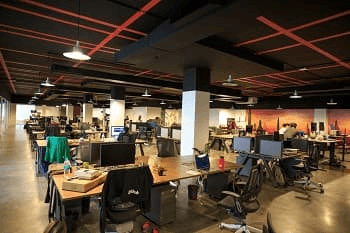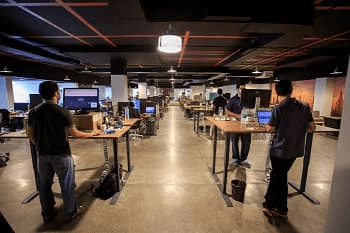 Helpshift Office

CE: Tell us more about industries that you are targeting. How do you go about reaching your customer-base?
Abinash Tripathy: Our platform isn't industry specific, but rather is seen a competitive advantage for any company that sees mobile as a strategic growth channel.
The industries that have most quickly adopted Helpshift include brands focused on: eCommerce, Gaming, Lifestyle, and Productivity.
CE: How big is Helpshift team at the moment? 
Abinash Tripathy: Currently, our team comprises of roughly 90 people – majority are engineers based out of our Pune office. Our sales and marketing team is largely in US.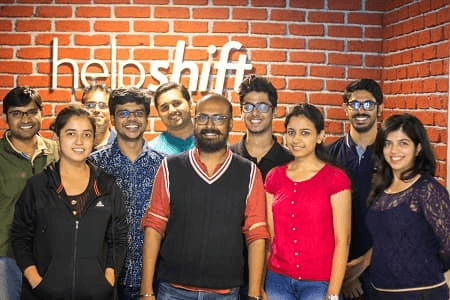 Helpshift Team
CE: How do you go about hiring at Helpshift? What are the company's expansion plans over next 2 years?
Abinash Tripathy: We are always looking for great people to add to our growing teams. We have a very thorough hiring process for technical folks which typically involves an involved take home coding assignment and discussions with our team members to determine culture fit. We believe great attitude and the "always be learning" mentality trumps all else and we tend to optimize our hiring for such folks.
CE: Any message for your readers at CrazyEngineers?
Abinash Tripathy: Helpshift is a very unique environment where we get to work on tech that affects Billions . Our SDK is installed on over 1.3B devices and we serve over 4B requests per day with our infrastructure for apps like Clash of Clan and Microsoft Outlook. 
My message to all is - Be a part of a really awesome team of engineers, learn a lot and work on really hard problems that make the life of billions of users better.
Note: Only logged-in members of CrazyEngineers can add replies.
Recent updates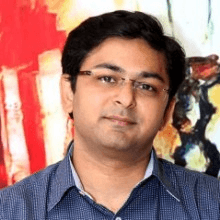 We understood the client's need of going mobile friendly and making solutions that will help save time and money. That is how our direction of being known as one of India's best enterprise mobility solution provider became an aim.

Abhijit Junagade

Winjit Technologies​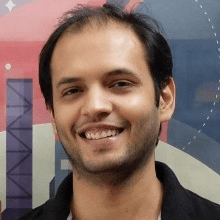 In 10 years, when I go to a hackathon and ask, "Who here has used Postman?" - I want every hand in the room to go up.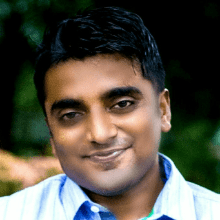 Competencies can be build and nurtured. But right ambition, right motivation and cultural fit is very imp. I will suggest all entrepreneurs in early years to codify it.

Abhishek Ballabh

ExtraaEdge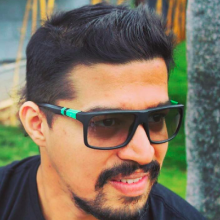 People management, analytical and not emotional driven business decisions is the key.

Abhishek Daga

Thrillophilia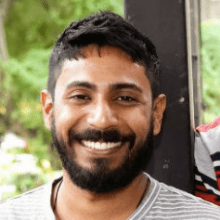 The best way to achieve long-term success is to stay anxious, be super involved in everything that the team does in the nascent stages and keep your eyes on the trophy, even on weekends.