From the Archives
Archived discussions on CrazyEngineers
@Ankita Katdare • 11 Jan, 2015
The latest addition to the Mahindra's popular Scorpio lineup has something of interest for every buyer in Indian market. The all new Mahindra Scorpio S4+ variant has been introduced at a starting price of Rs. 9.7 Lakhs. Equipped with a 2179 cc mHawk 4 cylinder engine, featuring variable geometry turbocharger with Intercooler and common rail direct injection technology, delivers a max power of 120 bhp (88kW) @ 4000 rpm and max torque of 280 Nm @ 1800-2800 rpm. The powerful engine is coupled with a five-speed manual gearbox which sends power to all four-wheels of the SUV. Let's take a look at the various features that Mahindra Scorpio S4+ brings into the lives of its riders.
The first thing that caught our attention are the additional safety and security features added to the new SUV. First of all, there's airbags for both driver and passengers, Panic brake indication, collapsible steering column and side intrusion beams and ABS (Anti-Lock Braking System) with EBD (Electronic Brake Force Distribution) to avoid the possibility of wheel-locking and skidding. Other than the safety features, there's the shift-on-the-fly all-wheel drive system option offered on the S4 Plus variant.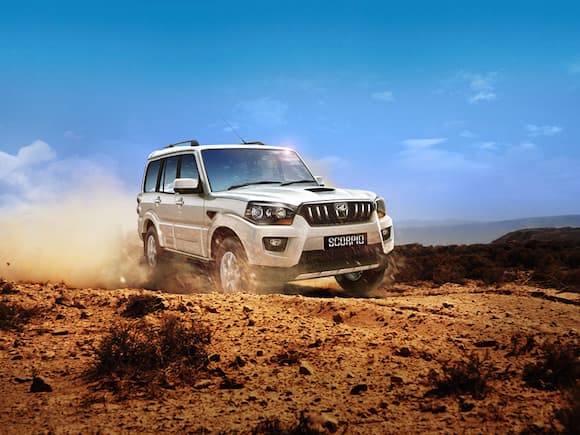 ​
On the style quotient, the Mahindra Scorpio S4+ features LED tail lamps, steel rim wheels, black finish fender bezel and bonnet scoop. For the convenience of the driver, the S4+ variant like the S4 version has hydraulic power steering, tilt steering and vinyl seats with fabric inserts. An additional features seen is the inclusion of follow-me-home headlamps, again for added safety. On the specifications front, we find that the Scorpio S4+ comes with a wheel base of 2680 mm, overall width of 1820 mm, 4456 mm length and 1930 mm height.
With that we come to the end of all the features and specs you should know about the latest S4+ variant in the Scorpio series. The base 2WD variant of the Scorpio S4+ has been priced Rs. 9.7 lakhs, whereas the 4WD version is offered for a starting price of Rs. 10.83 lakhs. We believe that the Indian brand Mahindra is going to face a tough competition at the hands of the evergreen and ever-popular vehicles - Tata Safari, Renault Duster and Ford Eco Sport on the Indian roads. What are your thoughts on that? We would love to hear them in the comments section below.
Source:
Mahindra Official
@Vikram S Bargah • 11 Jan, 2015
The all new Scorpio will be offered in six variants, namely – S2, S4, S6, S6+, S8 and S10. The S2 variant features the m2DICR 2.5-litre engine while the rest are powered by the 2.2-litre mHawk diesel.
The Price Ranges from Rs 8.69 Lacs for S2 to Rs 13.45 Lacs INR for S10 (4WD) Ex. Showroom Delhi.
P.S: Still dreaming to own an XUV 500 Someday😒
@ManojKiran Eda • 12 Jan, 2015
Looking very pretty......For a reasonable price.....😀
Related Posts
Archives
@pratap singh, upendra · Jun 26, 2015
What is the difference between a host and a node in computer networking.I recently learnt that link layer devices are called as nodes and network layer devices are called as...
Archives
Whats the difference between CNC and NC machine and do u people know any institute which teaches CNC programming
Archives
@Dazzker ketan · Jul 27, 2012
please suggest me something for my project,mi am not getting any idea...???
Archives
@Abhijit Dey · Jun 4, 2013
While regular browsing and surfing on the internet, I came upon something fascinating. With an interest in window shopping and preparing a wish list for things I would like to...
Archives
Hello all I need help from any one out there on the subject-Help on masters thesis topic on Systems and Control Engineering.I am making an application for masters in Systems...