Home

>

Apps

>

Groups

>
Want to send your name to Mars? NASA's InSight Mission Lander is going to do it for you
Question asked by Amit Jha in #Coffee Room on Oct 6, 2017
Are you ready to register your name with an important space exploration mission? If yes, then NASA is in search for you. NASA is all set to explore the Mars habitat via its InSight Probe and is inviting people to send their names which will be sent with it to Mars.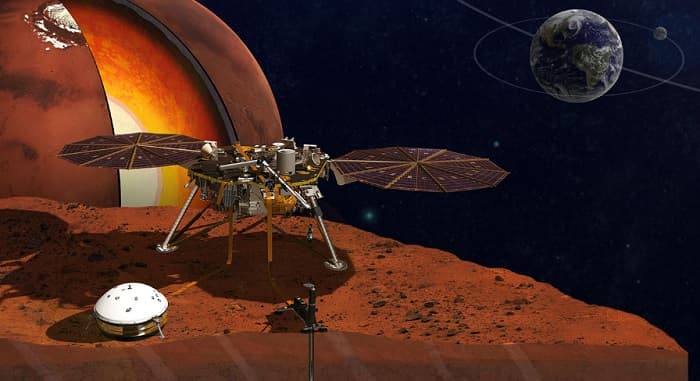 An Artist's Impression of NASA'S InSight Mission
​
InSight, also known as Interior Exploration Using Seismic Investigations, Geodesy and Heat Transport is a NASA discovery program mission that will place a lander on Mars to study its geophysical conditions. The Lander will have précised geophysical instruments to study parameters like seismic activity, temperature, and reflexes which will be found when the Lander will study the deep interior of the Mars. The importance of these results will not only be limited to the study of the Martian conditions but will also open the secrets about how the terrestrial planets have acquired their geography in due course of time. The lander has been made in association with NASA JPL Laboratory and Lockheed Martini and will be launched in May 2018 from California, USA.
The InSight Probe will be launched via Atlas V 401 launcher and will contain a microchip that will store all the names of participants who have registered their name on NASA's website. Once registered, one will get a boarding pass which will contain their name, boarding number and other details like the launch site, launch date, etc. The following is how a boarding pass will look like if you send your name to this mission –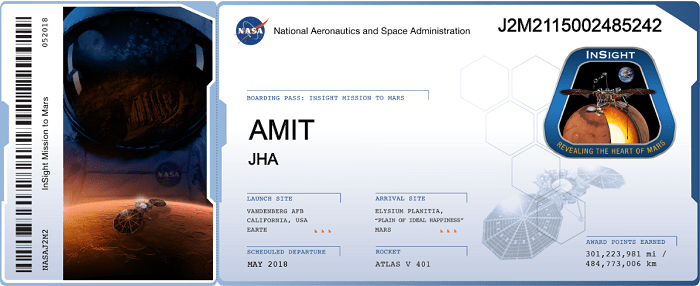 ​
As seen above, we can get an idea that the probe will land at ELYSIUM PLANITIA which has also been named as Plain of Ideal Happiness on Mars. Once done, you can view your Frequent Flyer Club account and can also view the points that you have earned. There is also an option of sharing your boarding pass on social networking accounts and further, you can also invite your peers to try this out.
About 1029484 InSight boarding passes have been issued till today and the last date to send the names is on November 1, 2017, 11.59 P.M ET. Those who want to send their names can visit the following link and follow the steps to obtain their boarding passes. Though you won't fly for real, your name will become a part of an important space exploration mission that will unfold the secrets of the terrestrial planets of our universe.
Click this link to register your name -
NASA InSight Mission
Source –
NASA JPL
Posted in:
#Coffee Room
I have one from 2014 ORION journey. Here's my boarding pass:😀