CrazyEngineers V4: Early Access
We are developing the next version of CrazyEngineers. If you wish to receive latest updates and early access, click the link below.
Home

>

Apps

>

Groups

>
Underwater Wireless Sensors From University of Buffalo - Internet Dives Into The 'Deep-Sea'
Question asked by Divyanshu Sharma in #Coffee Room on Oct 17, 2013
"Underwater internet!" Sounds alien? Not anymore. Researchers at University of Buffalo have been working on underwater wireless sensors that use TCP/IP (the common networking protocol for internet) and can transmit the data over internet. Tommaso Melodia, Associate Professor of Electrical Engineering, with his students, successfully tested the technology in Lake Erie near Buffalo. The usual Land based wireless networks use radio waves for data transmission, but, as radio waves penetrate poorly into the water, cannot be used for these marine networks. Hence, acoustic or sound waves are used for underwater transmission.
Organizations using sound waves for wireless transmission into the sea use different infrastructures and therefore, data cannot be shared easily between such systems. Melodia has been working on standard framework that would transfer the data from underwater sensors to laptops and smart phones. The researchers have proposed to modifications to the TCP/IP in order to use the sound waves. Using TCP/IP implies that the network will be accessible over internet. According to the
news release of University of Buffalo
, while experimenting, two 40-pound sensors were dropped into the water and a high pitch chirping sound emerged out of a nearby concrete wall when a command was typed into a laptop.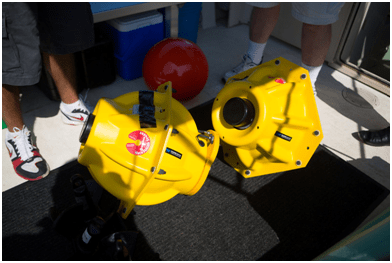 ​
Lead researcher, Professor Tommaso Melodia emphasized on the part that these sensors can play in transmission of critical information regarding disasters."Making this information available to anyone with a smart phone or computer, especially when a tsunami or other type of disaster occurs, could help save lives," he said. "We could even use it to monitor fish and marine mammals, and find out how to best protect them from shipping traffic and other dangers," said Melodia, pointing at the various possibilities that deep sea internet has.
Although, the data rates provided by acoustic waves are too slow (probably a few kbps) and noisy, the researchers will seek to make advancements in future. The research team will present a
paper on "The Internet Underwater: An IP-compatible Protocol Stack for Commercial Undersea Modems,"
at the annual international conference on Underwater Networks and Systems. We certainly need better systems for quick information passing from the marine world, but, will it be feasible to have flawless 'internet based technologies' intercepting the water bodies?
Posted in:
#Coffee Room