Home

>

Apps

>

Groups

>
Thin-Film Flexible Batteries Developed For Wearable Devices - No Lithium.
Question asked by Ambarish Ganesh in #Coffee Room on Apr 29, 2014
Rice University chemists have developed a flexible, portable material using nanoporous nickel-fluoride electrodes layered around a solid electrolyte to furnish a battery-like supercapacitor performance which incorporate the best qualities of a high-energy battery and a high-quality supercapacitor without employing lithium that's found in almost all present commercial batteries. Detailed in the
Journal of the American Chemical Society
, the electrochemical capacitor is 1/100th of an inch thick, but can be scaled for devices by either layering them up one above the other, or simply by increasing their size. The researchers expect the battery to be even thinner given the standard manufacturing techniques. While conducting several trials, students observed that their square-inch device retained 76% capacity over 10,000 charge-discharge cycles and 1,000 bending cycles.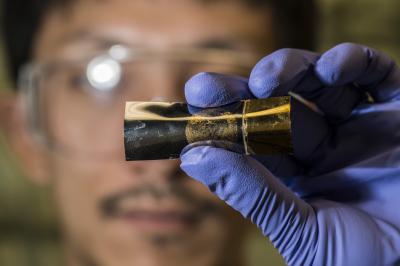 ​
Chemist James Tour stated that his team worked towards finding a material that had the flexible qualities of graphene, carbon nanotubes and conducting polymers while holding much higher electrical storage capacity generally found in inorganic metal compounds. So far inorganic compounds lacked flexibility, and materials with such high capacity are usually brittle, he added. While there were efficient, flexible carbon storage systems in the past, he states that "carbon as a material has never hit the theoretical value that can be found in inorganic systems, and nickel fluoride in particular." When compared with a lithium-ion battery, this structure is safer and simpler. Even though it delivers as a battery, it's structure is that of a supercapacitor. If used as a supecapacitor, it can charge quickly at a high current rate and discharge in a very short time. For other operations, the charging and discharging could be slowed as per requirements.
For developing this battery/supercapacitor, the team coated a nickel layer on a backing, which they etched to create 5nm pores with 900nm-thick nickel fluoride layer, offering high surface area for storage. Then they removed the backing and sandwiched the electrodes around an electrolyte of potassium hydroxide in polyvinyl alcohol. When tested, there was no degradation of the pore structure and the electrode-electrolyte interface even after 10,000 charge-discharge cycles.
The power this device can deliver is great, and the methodology for developing this high-powered system is pretty simple. Tour believes that this technique even holds promise for manufacturing other 3D nanoporous materials. They're already engaged with several companies to commercialize this device.
Source:
Rice University
Posted in:
#Coffee Room
Carbon nano-tubes seems to be the next big thing. It would also be interesting to see how much such a battery/supercapacitor would cost.