Home

>

Apps

>

Groups

>
Paperspace allows you to take your personal computer on the cloud
Question asked by Jason Estibeiro in #Coffee Room on Mar 5, 2015
With so many new computers with great specifications out in the market, if you are the kind of person who is confused about what to select and what to reject, then tech startup Paperspace might have the answer for you.
Paperspace
will provide a zero client device which will allow you to connect to your computer from anywhere if you have internet access and a web browser.
Come to think of it and you might feel that this is something that Citrix, VMWare and Amazon Workspaces already provide. However, Paperspace said that the beauty of their service lies in its simplicity. They said that the users won't require any kind of technical knowledge to use their service unlike their counterparts which require you do certain things via the command line. Simply said, Paperspace is something comparable to Dropbox which has now become popular, although file sharing was possible for years via FTP before Dropbox came.

​
Paperspace are calling their zero client device as Paperweight. All you, as a customer needs to do is to plug in that device into a computer and you can access your desktop contents via a web browser. Paperspace is providing two operating systems: Windows and Linux. If you are into post-processing (videos or photographs) you might be aware of the processing power it takes to work. If you want to, you can install processor and graphics taxing programs like 3D CAD on the cloud computer, and you can work seamlessly without worrying that your 'device' might crash.
For enterprises, Paperspace can provide shared drives with security features, encryption and decryption facility and 24 hours monitoring capability. Not only that, Paperspace also provides control panel for admins to manage and control access to the system. Besides all these facilities, there are other predictable advantages that it eliminates the need carry heavy laptops everywhere you go, you don't have to worry about losing data since everything is on the cloud or carry the latest presentations in your pen drives.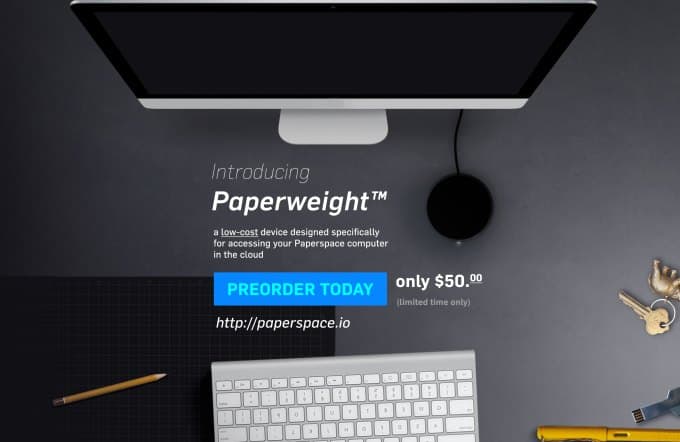 ​
Paperspace will provide the users a choice of Windows 7, Windows 8 and Ubuntu OS. They said that they are hoping to make the MAC OS X available soon. Paperweight is up for pre-order for 50 USD and the cloud based access will cost 10 USD per month. The shipping of the devices will start in late 2015 according to Paperspace.
Via:
Techradar
Image Credits:
Techcrunch
Posted in:
#Coffee Room