Home

>

Apps

>

Groups

>
NCSU Researchers Plan To Use UAVs And Bio-Bots To Map Unexplored Territories
Question asked by Debasmita Banerjee in #Coffee Room on Nov 19, 2016
Devoid of brains, but equipped with machines, intelligent bio-bots will soon be at your rescue as blessed with the boon of a combined hardware-software solution powered by the North Carolina State University. Sourcing their research at the end, the package is developed by NCSU electrical and computer engineers to map the areas where a human can't reach with their conventional technologies. The team has planned to reconfigure the unmanned aerial vehicles (UAVs), insect cyborgs and bio-bots and make it eligible for mapping unfamiliar areas such as collapsed buildings after a disaster.
According to Edgar Lobaton, assistant professor of electrical and computer engineering the idea of their research involves data collection in the unmapped zones with the help of a swarm of sensor-equipped biobots like remote-controlled cockroaches. Also, the biobots' locomotion will be under control with the help of remote-control technology and in a fixed area (say 20 meters from a UAV), the bots will be able to move freely in a random path.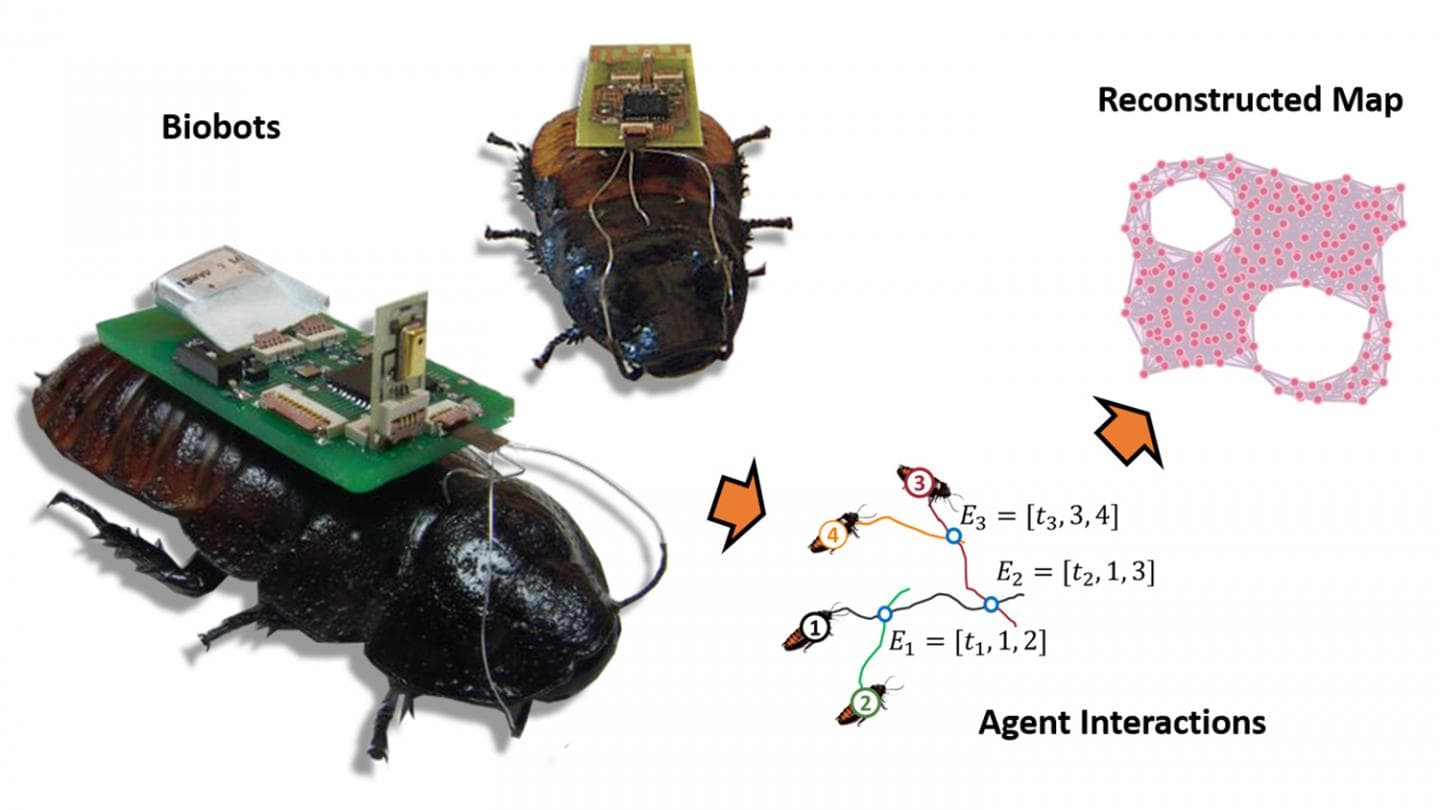 ​
The project is defined in a group-job manner to cover the whole area under their supervision. Whenever two of the assigned bio-bots approach towards each other, they communicate via radio signals and trigger the devised software to run an algorithm. As a result, the process converts the captured data into a map of an unexplored area.
Once the method reaches completion, the UAV signals the bio-bots to move to any skipped portion and the herd of bots move with it to map the rest. Finally, the new map is superposed with the old one to get the ultimate result. Lobaton implied, a strong radio wave from an UAV can enlighten the area which cannot be specified with the GPS signals. Easing the communication, one part of swarm robots can inform the UAV about the rest of the swarm robots.
Alper Bozkurt, co-author of the paper has given life to the functional cockroach biobots however, for this particular experiment they thought of an inch-and-a-half-long robot to be an apt choice. In the experiment, the robots were released into a maze, structured inside a moving cart. With the overhead camera equipped with an UAV, the place was mapped and later replaced with the upcoming carts.
The research work will find its applications in the post-disaster management system and also help responders to test the strength and reliability of the structures. The complete research has been divided into two parts, where the first part has been published in the Robotics and Autonomous Systems and the next part is published in the IEEE Transactions on Signal and Information Processing over Networks.
See the experiment by yourself:
Source:
NC State
|
sciencedirect
Posted in:
#Coffee Room