Home

>

Apps

>

Groups

>
Nagoya University researchers succeed in breaking down plastic waste in an easier way
Question asked by Debasmita Banerjee in #Coffee Room on May 28, 2017
Plastic waste throughout the globe is a matter of predicament and concern, leaving us on the edge of destruction if a proper waste treatment is not adapted already. According to the statistical report produced in the EcoWatch website, 500 billion plastic bags are used annually and only a very little amount enters into the recycling process. Although a handful of significant scientific methods exist, the process of implementation is challenged by the pre-existing infrastructure, cost of management and other significant restrictions. The scientific community all around the world is now concentrating much more on the energy crisis, waste management and recreating renewable energy model. Accepting the global need of the moment, a research team from the Nagoya University has recently innovated a way of simplifying the plastic waste management process.
The research is an extension of the team's previous project. We know that the biomolecule Protein consists of long chains of amino acid residues tied together with amide bonds which are also seen in naturally occurring bio molecules as well as artificial plastics and polymer derived substances. Now why amide bonds? the basic characteristics of this enhance the strength of the plastics which helps in bearing the load. However, the strong amide bonds also limit the recycling practice.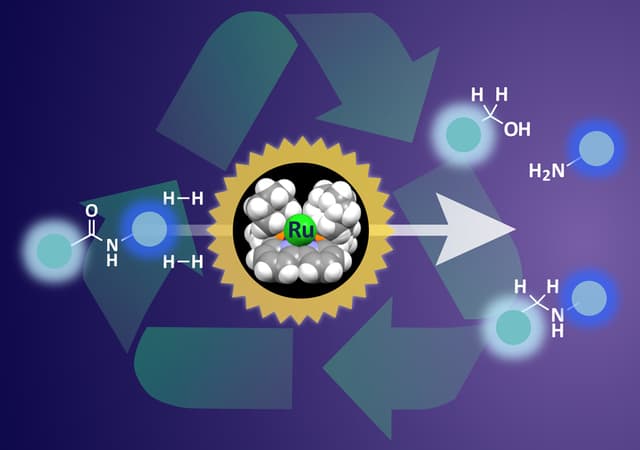 bipyridine-ruthenium (Ru) framework
​
To aid the system, replacement or customization of the conventional recycling technique was a necessity. Catalysts are a popular choice to speed up a chemical reaction but to disintegrate amide bonds, harsh conditions should be met and a large amount energy must be exchanged. Rejecting the limitations, the Nagoya University group was capable of designing an organometallic ruthenium catalysts which could dismantle the amide bonds without meeting any extra conditions.
The lead author of the corresponding research paper shared that their previous research method of hydrogenating amide bonds was successful but required high temperature and high pressure. Hydrogenation, being the primary method for dissolving amide bonds, had to be customized for a convenient approach. Adsorbing hydrogen, the ruthenium atom pushes it to the amide bonds, initiating the bond breakdown process. The team placed the hydrogen on the catalyst while undergoing the reaction pathway which resulted in modification of the supporting framework. The accuracy in terms of the position of Hydrogen was crucial to give the best possible result. The paper has been published in the "Scientific Reports" journal.
Source:
Nagoya University
Posted in:
#Coffee Room