Home

>

Apps

>

Groups

>
Morphees - The 'Shape-Changing' Mobile Phones Are Our Future
Question asked by Ankita Katdare in #Coffee Room on Apr 29, 2013
Remember we told you about
Samsung's Bendable Screens,
that were all set to be on smartphones by 2013? Well, now we have a definite winner over it. What Scientists from Bristol University have developed is something they fondly call 'Morphees', the devices that can change their shape as required. Yeah, so, not just bend, we may now have devices that can alter their form altogether to say make a game easier to control or make the screen easily hidden when entering passwords or secure keys. As mentioned on
The Engineer
, Bristol's scientists have successfully developed 6 different prototypes using dielectric electro-active polymers (DEAPs), shape memory alloys (SMAs) and other wood-like materials. These 6 prototypes are being tested to see which one is safest to use and consumes least electricity.
The DEAPs used are nothing but plastic materials on whom electric field is passed. This generates the pressure necessary to change the shape. Whereas the SMAs are mold-able materials that will regain their original shape on applying heat. Interesting, right? This only goes to say how little we are aware of the different types of interesting materials and compounds that must be brewing inside the labs of our finest of researchers that can expand immense possibilities if brought to commercial usage.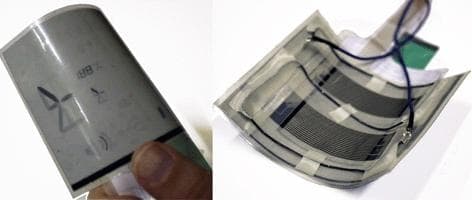 ​
Basking on the glory of the ten properties that were identified to describe the 'shape resolution' of these shape-changing devices, these scientists were able to make significant improvements on the properties like - curvature, granularity (density of points on a movement) and stretchability. Now, one of the prime component of every hand-held device is its battery. To make the vision of shape-changing smartphones a reality, we need flexible batteries too. And this is the challenge that lies ahead. That is where this EU-funded programme called GHOST (generic, highly-organic shape-changing interfaces) is headed.
Meanwhile, take a look at a video they've put together here:
The researcher Dr. Anne Roudaut and her co-leader Professor Sriram Subramanian are presenting this research to the CHI 2013 conference on human-computer interaction.
Posted in:
#Coffee Room
The flexible display technology will certainly be a revolutionary in mobile phones.