Home

>

Apps

>

Groups

>
MIT Students Win The Space X "Hyperloop Pod" Design Challenge
Question asked by Debasmita Banerjee in #Coffee Room on Feb 2, 2016
A team of 25 MIT students have won the "Hyperloop Pod" design challenge announced by Space X, outlining high-speed ground transport systems that was held in Texas A&M University. The Elon Musk led company found MIT's Hyperloop pod design comprising the hypothetical super vehicle which will run between San Francisco and LA at a remarkable speed, as the most adaptable and efficient system and crowned them as worthy winners.
Inspired by Space X's original concept outlined in 2013, Hyperloop is a futuristic transport system that has the potential to dramatically revolutionize our lives. Last June, Space X revealed their novel idea to university students and independent groups which led 120 teams to participate in such an innovative quest.
John Mayo G, project manager of the MIT Hyperloop Team, team leader Philippe Kirschen G and chief engineer Chris Meri were the three pillars of the group consisting of members from the Aerospace engineering, Mechanical engineering and electrical engineering departments. With help from MBA students from the Sloan Business school, the complete team decided to approach the project in a way similar to how a start-up is initiated.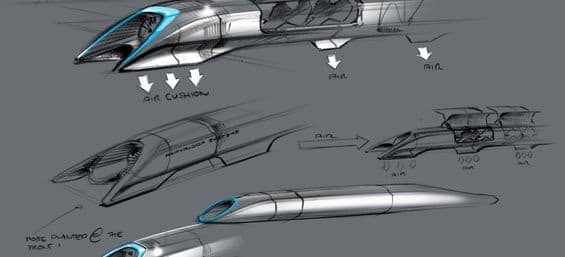 Hyperloop Alpha
​
Mayo explained their pod design included the aerodynamic shell, the frame, the levitation skis, the suspension, the lateral control modules and the braking modules — along with the electronics and software which was analogous to the nervous system. The final technology will be a vehicle passing through the vacuum tube levitating with unmatched speed.
Using the Halbach effect, MIT's Hyperloop would use magnetic levitation for floating. After initial propulsion at a speed of 5 to 10 meters per second, the futuristic train needs no extra energy to stay afloat. In the next step of the challenge, with the help of SpaceX's propulsion system, the pod will run at a speed of 240 miles per hour.
MIT once again proved their numero uno status when their Hyperloop design was declared victorious. Mayo further added they could win the challenge since their design was feasible and easily buildable when compared to its competitors. The prototype system will be tested during the first week of May.
Watch Elon Musk speaks at Hyperloop Pod Award Ceremony:
Source:
MIT
Posted in:
#Coffee Room