Home

>

Apps

>

Groups

>
Karbonn Mobiles Dual Boot Smartphones On Cards, Android & Windows In Single Device
Question asked by Chinmay Joshi in #Gadgets on Mar 2, 2014
After dual sim phones stopped being cool, it's the time for smartphones with dual operating system. Karbonn mobile, which is currently the fourth largest company in the handset market, has tied up with Microsoft at MWC 2014 and is planning to come up with a dual boot handset i.e a phone which will work on two operating systems. This smartphone will run both Windows as well as Android and the user will have the freedom to choose between the two.
Sudhir Hasija, Chairman of Karbonn mobiles said that his team of researchers and developers are on their way to produce a good high quality processor for the phone which can perform better with two operating systems running at the same time. He added that as its a bit tough to build such a phone, there probably will be an increase in the cost of this device. Karbonn is planning to launch its dual boot mobile by June or July. Joe Belfiore, corporate vice president and manager for Window's phones Program Management, said that they'll be planning to come up with a Qualcomm Snapdragon 200 and 400 series chips which will work with all major cellular technologies. Snapdragon is a system on chip for mobile phones by Qualcomm, which is known for its designing and manufacturing of digital wireless communication products.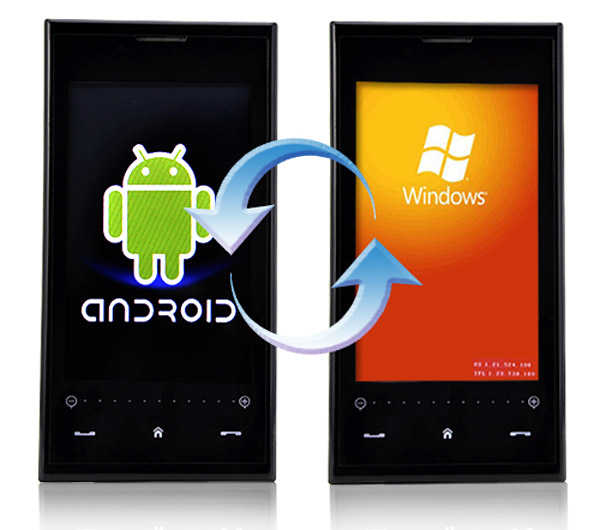 Currently, Karbonn mobile phones are selling 2 million pieces a month. The company is now planning to set up a manufacturing plant in Tamil Nadu which will have a capacity of manufacturing 1 million phones a month. So, what do you think about a new dual boot phone in Indian market? Will it attract customers? Suggest in your comments below.
Source:
The Hindu
Posted in:
#Gadgets
Is this possible??? Wonder this is amazing implementation.
HTC is also rumored to bring a dual-boot phone this year
HTC is also rumored to bring a dual-boot phone this year
Now, if it works with karbonn,every cell phone company think of this..