Home

>

Apps

>

Groups

>
Japan's Robot Farm Cultivates Crop Indoors - Harvests 30000 Lettuce Every Day
Question asked by Raagavan Sivaraja in #Robotics on Jan 28, 2016
Japan and Robots are harmonious, and they seem to be taking on one industry after the other. This time, it is farming and cultivation. Spread, a Lettuce Production Company in Japan, has created the first robot-powered indoor farm in Kyoto, that can churn out as many as 30000 lettuce heads, every day. The agricultural trend based on which this farm operates is vertical farming, where crops are cultivated on what looks like server racks, without sunlight, under LEDs.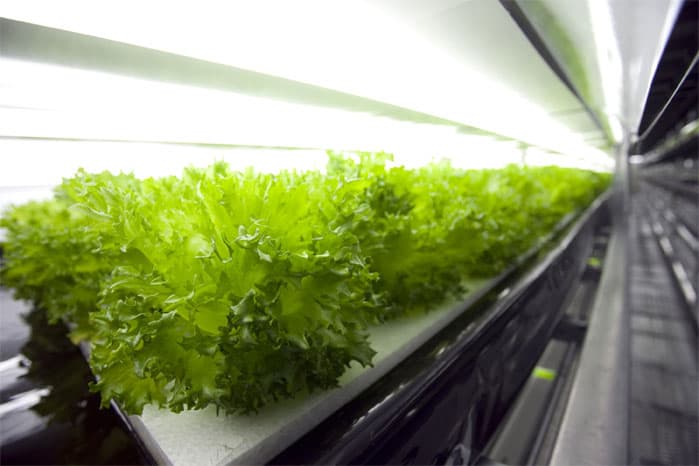 ​
Farming and agriculture have never been failed by technological inventions, but this is something out of this world. The machines used in this farm are not humanoids, but mostly conveyor belts and automated arms. The farm itself is a technological marvel because the controlled environment can provide the optimum growing conditions for the crop that can not be promised consistently by nature.
This is Spread's second farming project, but the first fully automatic one. Their first farm that is partly man-powered is situated in Kameoka, and produces around 21000 lettuce heads a day. This initiative is primarily aimed at increasing productivity, but it comes with a lot of other perks as well. The cost of labor might go down by 50%, energy consumption by 30%, and more importantly 98% of water used could be recycled.
These farm robots are capable of planting seeds, watering the plants and harvesting the plants when they are ready. Spread is also investing in developing sensors that constantly monitor the growth and development of the plants and the environmental conditions, so that human intervention can be initiated in case they are not growing well.
They are also planning to build such smart farms in many other countries. Spread's new smart, robot farm is all set to open next year. On a similar note,
SoftBank recently announced its Pepper robot-powered phone store
. Though there always is the downside of people losing their jobs to robots, the conservation of water and the reduced cost of cultivation might be beneficial in many ways, especially to developing and undernourished nations.
Source:
TechInsider
Posted in:
#Robotics