Home

>

Apps

>

Groups

>
Honda Introduces A Car Intelligent Enough To Predict Behaviour Of Parallel Drivers
Question asked by Jason Estibeiro in #Coffee Room on Jan 10, 2015
Japanese automobile manufacturer, Honda has introduced the first ever predictive cruise control system which can detect the behaviour of the driver driving parallel to the car. There are cars in the market featuring adaptive cruise control with which they detect the activities of the car in front of them and adjust their speed by automatic breaking to keep a safe distance. However, this technology known as Intelligent Adaptive Cruise Control (i-ACC) is capable of foreseeing the behaviour of the driver of the car and perceive whether the car is going to cut-into the car armed with i-ACC atleast five seconds before it does so.
In the past, it was possible that automatic breaks are applied in emergency if the driver comes immediately in front of the equipped car but Honda has now gone one step further. The car will have a camera and a radar on the side that will constantly sense the motion of other cars. An algorithm will then be applied on the data collected from this sensing. This algorithm would then guess the chances of the neighbouring vehicles cutting-in by assessing the relations between several vehicles, thus giving the technologically armed vehicle to respond swiftly and comfortably.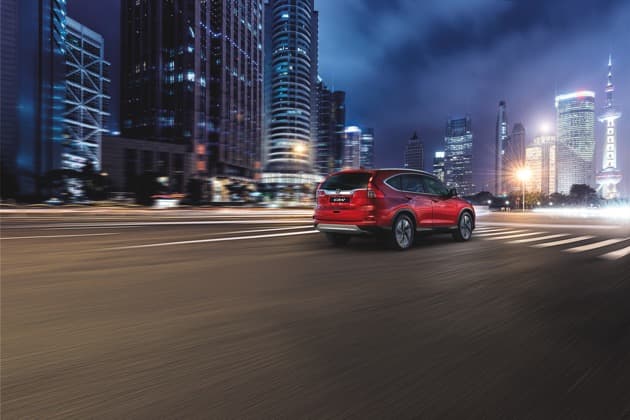 Photo credits:
Engadget
​
The algorithm was made after a lot of research about the driving styles in Europe which is where the tech will be released later this year in Honda's European CR-V model. Additionally, the intelligent system can also distinguish whether it is driving in UK or continental Europe. Since it anticipates a cut-in 5 seconds before it might actually happen, the system applies the break lightly so as not to alarm the driver who might be unaware of the imminent danger. Besides the mild braking, it will also show an icon on the driver's display informing the driver of the threat. After that, the system will move forward and will apply a stronger brake to maintain a safe distance.
i-ACC is the outcome of the hard work of the R&D team in Europe and Japan and is specially designed for use in European countries. Dr. Kleinehagenbrock, the person responsible for the tech development at Honda R&D Europe said that this technology will take cruise control systems to a whole new level and offer what is known as 'predictive safety'.
Source:
Honda
Posted in:
#Coffee Room