Home

>

Apps

>

Groups

>
Google Search Results To Show Full Restaurant Menu On The Top
Question asked by Aditya Deshmukh in #Coffee Room on Mar 1, 2014
Google Inc. is improving their prime service "Google Search" day by day. Recently, Google shared publicly that they are providing 'Restaurant Menu' through their Google search service. Google engineers have now made the process of searching food specialties of cafes, restaurant etc. on various websites tad easy. Users can search for the menu of a specific restaurant by typing it or saying a command "show me the menu for" and the restaurant name. It seems that Google is expanding their knowledge graph by providing useful information to people and not let them crawl into multiple webpages for what they want.
This new service of Google is in the initial stage and is available only in United States. At present, this facility does not have much data to process i.e. only few restaurants menus are available on Google search results. In addition to this less-data problem, search command is fixed i.e. you cannot search menu by saying or typing "menu for" and the restaurant name. But in future as the knowledge-data and area of service for search will increase, commands for this particular search will become more flexible according to your location.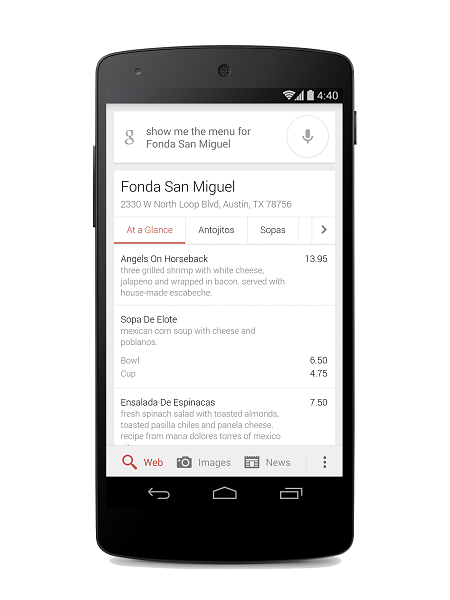 ​
Moving on to 'how the search result will look?', it was shared that the search results will appear right on top of the screen, providing name of restaurant you have queried for followed by address of that place. After the address full menu is displayed in tabbed form for categorizing types of food. Best part of this service is that will know how much our food will cost, price of every food item is provided with its name. This will help people in huge way to make reservation in such restaurants.
According to a spokesperson of Google this restaurant menu data is coming from unnamed data partner. This service works similar as the weather service of Google. Google uses the weather data from their data partner The Weather Channel and other partners to show the result of requested weather query. How many of you like the new feature and want this service to start at their native places? Show with us in comments.
Source:
Google Plus
Posted in:
#Coffee Room