Home

>

Apps

>

Groups

>
Facebook for Android App Starts Loving WhatsApp
Question asked by Kaustubh Katdare in #Gadgets on Apr 5, 2015
Facebook seems to have decided what they really want to do with their 19 billion dollar baby - WhatsApp. From what we already knew but did not really want to happen is what might just be happening. And the hawk-eyed folks at GeekTime seem to have spotted the early integration of Facebook Messenger and WhatsApp on Android. The blog published early screenshots of the FB messenger app version 31.0.0.7.13 that shows hints of WhatsApp being integrated.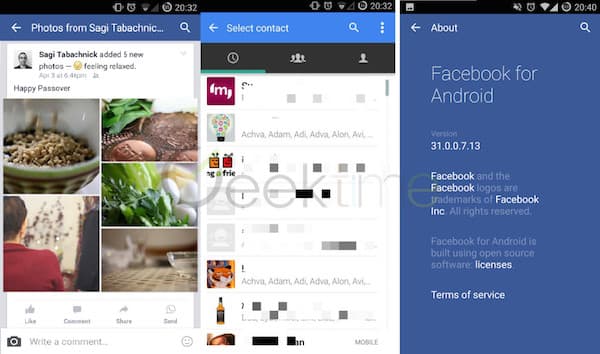 ​
What you should be looking at in the above screen-grab is the shocking similarity between the new 'Send' in the latest FB messenger app and WhatsApp icon. Folks at GeekTime believe that his could be a strong hint towards upcoming integration between Facebook Messenger app and WhatsApp. Users of Facebook messengers may get a facility to send and receive messages to WhatsApp users and vice versa. While a lot of users are going to 'like' this facility; there's a growing set of people who want both platforms to stay apart - and that includes WhatsApp founder - Jan Koum.
Koum had said that both the platforms will stay independent after Facebook bought WhatsApp for a eye-popping sum of $19b. Facebook however decided to open the messenger as a platform at the recently held F8 conference. That could have been a hint at possible integration between WhatsApp and Facebook - two highly popular messaging apps on mobile platforms.
Do let us know what do you think about Facebook-WhatsApp integration.
Source:
GeekTime
Posted in:
#Gadgets