Home

>

Apps

>

Groups

>
Evernote Introduces Scannable App To Scan Documents And Business Cards
Question asked by Jason Estibeiro in #Startups & Business on Jan 9, 2015
Notes archiving Service Company, Evernote has released 'Scannable', an app that as its name says, is capable of scanning your documents. The app is available for iOS users on iPhone and iPad. In its annual conference back in October 2014, the company had announced such an app and after the testing phase, beta and otherwise, the app has finally been released. The official blog of Evernote says that scanning via mobiles should be about the words on the paper and not the paper itself. And quite fairly, Scannable has done just that.
Although, it won't be fair to say that Scannable is the first scanning app, but it definitely has some alterations that might make it a better than other similar apps. The primary but the most significant change by Scannable is a better speed. It is a point and scan app. Which means that user will just need to point at the documents, bills etc. and the app will do the rest. The app will automatically detect the document, scan it without any bother or altered colour and will store it on the scan tray which will be visible at the bottom of the app. The perk of the scan tray is that it makes a quick access and review of the multiple documents possible. Post-scanning, the users can save the scans as images, digitize the text or convert into PDF format as per their choice.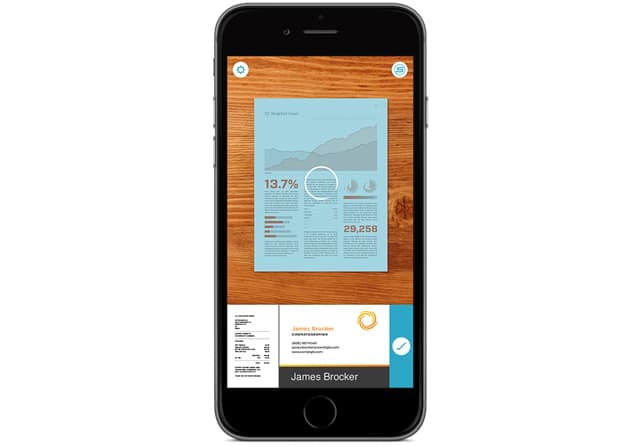 ​
One other noteworthy feature of the app is its ability to distinguish between a normal document and a business card. After differentiating, the app when scans the business card automatically takes the details from the card and makes a new contact in the user's contact list. Not only that, if the user has linked Evernote with their LinkedIn account, the app can sync the various details from the account and add it to the contact information. Besides all of this, one other highlight of the app is that it can be used to control the ScanSnap Evernote Edition scanner using Wi-Fi. So if the user has only a single scanner with multiple people to use it, each of them can scan the document using their phones, connect to the scanner and drop the documents into it.
The app is already out for use and can be downloaded from iTunes. The best part of course is that the app is available free of cost. There has been no news of a Windows or Android compatible version of the app by Evernote.
Source:
Evernote
Posted in:
#Startups & Business