Home

>

Apps

>

Groups

>
Data Compression Arrives On Google Chrome For PCs With Data Saver (Beta) Extension
Question asked by Satya Swaroop Dash in #Coffee Room on Mar 26, 2015
Attention Google Chrome browser users. You will now be able to save some of your internet data usage with the new Data Saver extension. The Data Saver extension which is currently in the beta form works in the same way as it does on Chrome's Android and iOS browsers. While the reduce data usage feature is in-built on the mobile versions of Chrome, the extension for PC has to be installed separately. Google's data compression proxy works in the following manner. When you send a request for a resource on the internet, Google's proxy servers initiates the request on your behalf. When Google's servers receive the response they optimise or compress those responses before delivering back to your browser. Google claims that this process reduces the size of web pages by up to 50%.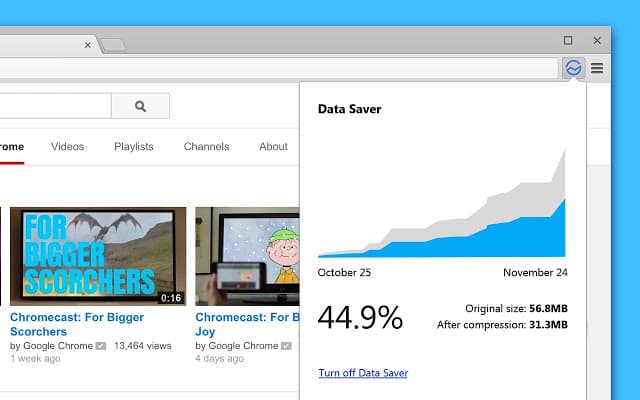 ​
The extension works on Chrome 41 and newer versions. Once the Data Saver extension is switched on you will be able to see a graphical representation of the actual data and the amount of data after compression. If you are concerned about your privacy, we would like to inform you that secure pages (pages that start with https) and incognito pages load without any data savings. Data compression on browsers isn't new, Opera has been doing the same since ages for mobile and desktop browsers. The Data Saver extension will be particularly useful for people who have limited-usage internet data packs.
To download the Data Saver extension visit
this link
on the Chrome Web Store. You can also read about Google's
data compression proxy
and the extension's
support page
.
Source:
The Next Web
Posted in:
#Coffee Room