From the Archives
Archived discussions on CrazyEngineers
@Kaustubh Katdare • 30 Mar, 2015 • 1 like
Chinese engineers seem to be getting their new mega-project ideas from Isaac Asimov's books. According to
ET
, China is planning to build a mega solar power station at an altitude of 36,000 kilometers above the ground to cut the smog and greenhouse gases while solving the energy problem. If China manages to build the power station of the scale it's planning; it will be bigger engineering project than the entire Apollo Program and even the International Space Station.
The original idea of the project was floated by Asimov in his 1941 fiction titled 'Reason' in which the space station collects and transmits the solar energy back to the Earth using microwave beams. Wang Xiji an academician from the Chinese Academy of Sciences has said that Asimov's fictional work always had a scientific base. Wang has dedicated nearly five decades of his life to space technology research and says that the project would be really huge with each solar panel reaching about 5-6 sq.km; about 12x the the size of Tian'anmen Square in Beijing. People would be able to see the power station in the Sky with naked eyes at the night like a star.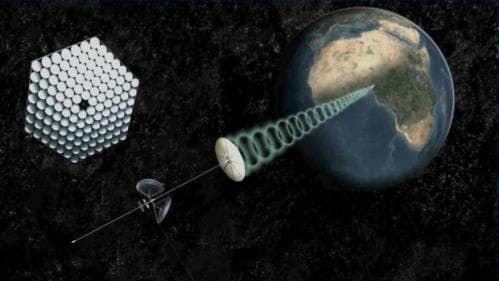 ​
The
space solar power station
would cut on the fluctuations in collection of solar energy on the Earth because of day and night. The space power station would be able to collect solar energy with 99% of the time and also generate 10x more electricity per unit area as compared to ground-based panels. Wang firmly believes that the solar based power station would be able to solve the energy crisis on the Earth.
The main challenge in realisation of the project would be deployment of the solar panels in space. Setting up a 10,000 tons of infrastructure in space would required several hundred trips from rockets. While Wang is quite optimistic about space power technology, we'd love to collect ideas from our fellow crazy engineers whether they see future in it. We look forward to your views and opinions.
@Ramani Aswath • 30 Mar, 2015
Generating the power is a cinch. Beaming it down is the nub. Geostationary mechanism, energy density (and associated hazards) of the microwave beam, orienting the beam, reception and conversion are major techno challenges. Still, a monumental concept.
@Ankita Katdare • 30 Mar, 2015 • 1 like
Out of curiosity, I googled about the list of solar power stations in the world and found that Spain has the most of them, with more than 25 fully operational power plants set up.
The 392 MW Ivanpah Solar Power Facility, located in California's Mojave Desert, is the world's largest solar thermal power plant project currently in operation.
In India too many solar power plants have been commissioned since 2011, majorly in Gujarat and Odisha, followed by Rajasthan and Tamil Nadu, but only a couple of them are operational till date.
I guess the major problem lies in the availability of land.
Dedication of land area for exclusive installation of solar arrays might have to compete with other necessities that require land.
As per wikipedia, We need 250 acres for every 20–60 MW generated. That's huge!
Looks like from where China is headed right now, most other countries might have to follow suit. 😲😒👀
@Ramani Aswath • 30 Mar, 2015
One of our units has a modest 100 KVA unit in Coimbatore that is fully used. We also use solar water heating plants for process water.
@D Shashikiran • 31 Mar, 2015
No disrespect, but after reading Ankita's comment above, I looked in wikipedia about India's road network, which has 92,851 Km of National highways and 1,63,898 Km of state highways. Keeping minimum width of 30 meters for state highways as the width and total length of 1000(92851+163898)m * 30m, we get an area of 3277170000 sq. mts, which gives us an area equivalent to 809806 Acres. Taking only 20 MW power generation for each 250 acres, still the area is good enough for about 65000MW.
All we need to do is constructing 50 meter high pillars at suitable distances on both sides of the highways and mount the platform as a top cover for the roads on those pillars to keep solar panels.
This platform can also be used to collect and distribute rain water.
This can be done in Kilometer-wise units and each unit can be operational independently to be plugged in. Certainly this is not going to be as costly as constructing the power station in the space.
My two bits of crazy idea for the members to consider and comment. Comments and feedback are welcome.
Thanks.
Related Posts
Archives
@Ismail0352 · Jan 21, 2013
anyone who has a doubt whether u should go for cdac / seed / any other courses share your views
Archives
@neelam_neha · Aug 7, 2008
i believe women in INDIA is better than other nations.....bocz others nations hve a lot of western culture....
Archives
@Hemant.oist · Jul 13, 2010
Hello, Can any body explain me the exact function of the dump tube installed in thermal power plants??
Archives
@Kaustubh Katdare · Jun 16, 2013
Lava's Iris series just got updated with the arrival of IRIS 504q smartphone. Indians had got quite excited after Lava floated the teaser 'Touch Phone Minus The Touch' and there...
Archives
@Satya Swaroop Dash · Jun 10, 2015
We have all been in this situation; friends and relatives coop up around your smartphone to watch a funny cat video or an embarrassing photo of somebody. The obvious solution...