Home

>

Apps

>

Groups

>
Apple patent intends hotspot over Bluetooth - A fit for iWatch?
Question asked by Divyanshu Sharma in #Gadgets on Nov 7, 2013
U.S. Patent and Trademark Office on Thursday published an Apple patent filing indicating that Apple is developing a technology where-in concerned devices will be able to share wireless networks over 'Bluetooth-like' low power and short ranged network. As per the document, that enlists the claims made by company, it will be a 'machine-implemented method for accessing a remote network. The patent filing was made under the title of "Network Access Using Short-Range Connectability".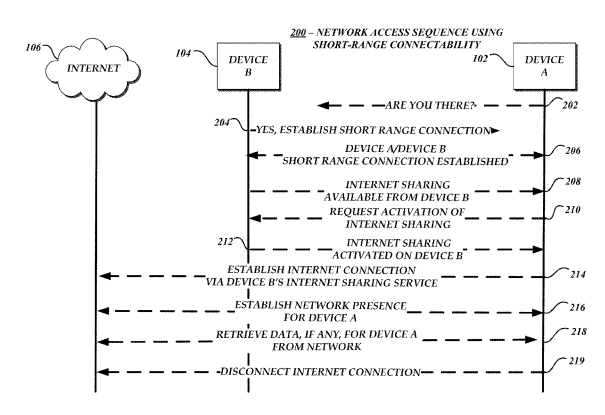 ​
Illustrating in the context of two devices the text mentioned that, while two devices are in range of each other, the first device shall receive a notification about the service offered by the second device for accessing the remote network. This service is a hotspot enabled on the second device which is available for other devices over either a short ranged network or a wireless LAN (where both the devices are connected). It is also mentioned that the second device might have a radio trans-receiver to access the remote networks that can be shared with the other connected devices.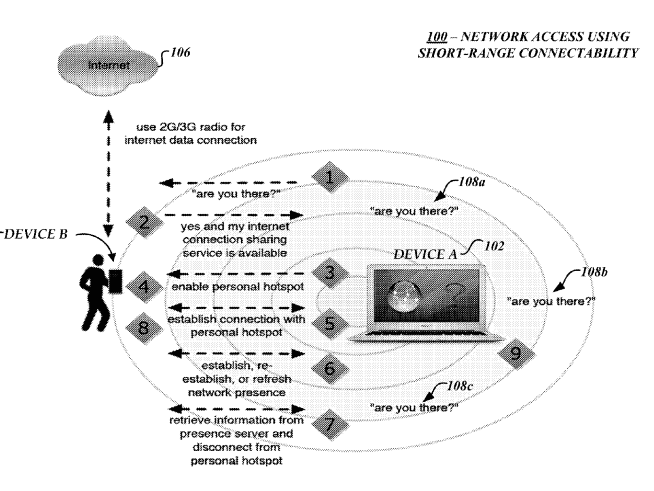 ​
The aforesaid short ranged network will be implemented over a proximity network protocol, like the Bluetooth protocol. However, the document description states "
The pairing of the two devices occurs over a short-range connection between them, as would typically be provided by a Bluetooth enabled connection.
" Hence, it is tempting enough to term the technology as 'a hotspot over Bluetooth'. There are two important features that this document hints at – low power consumption and notifications. The devices remain in the low power mode during the connection and also send & receive notifications. These features have got the rumor mills started that state that the company might well be looking to develop this technology for its much anticipated iWatch which can then be paired with a much powerful device like iPhone by consuming much lesser battery power. The document states that the patent was filed early in the year on March 13th.
Source:
US Patent & Trademark Office
Posted in:
#Gadgets
I sniff some relation to -Apple not implementing NFC in their devices. They are coming up with their own short range communication .interesting