Home

>

Apps

>

Groups

>
Aircel BookMate E-Book Store Launched - Monthly Memberships Open
Question asked by Satya Swaroop Dash in #Coffee Room on Sep 19, 2013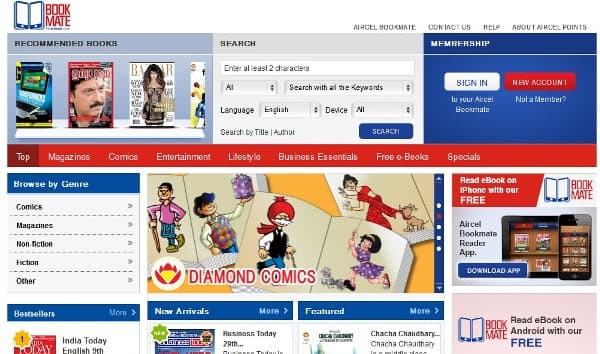 ​
Leading mobile service provider Aircel has rolled out its very own e-book store called as Aircel BookMate for its subscribers. This e-book store will allow users to read and download books, magazines and comics on their smartphones, tablets and PCs. To get started Aircel subscribers have to register on the
Aircel BookMate website
and purchase monthly memberships which will give them Aircel BookMate points. These points shall be then be used to buy e-books on the website. Given below is a screenshot of all the monthly payment slabs and the amount of points that you are entitled for each slab.

​
The app for Android is up on the Google Play store while the iOS app is still under development. On first look at the website it was impressive to see the number of Indian comics and regional magazines on the store but the fiction and non-fiction books category seemed quite lacklustre when compared to the other e-book stores like Amazon or Flipkart. With time it is hoped that Aircel will manage to get more books under its repository. But will users be willing to sign up for this service at a time when they have better options? Only time will give us the answer.
Source:
TechTree
Posted in:
#Coffee Room
I am sure they will upgrade their book Bank and we have more options. As for the idea, it was badly needed and we were waiting when anyone launches it. I m surely giving it a shot and see how much I can extract. I just hope it fits the small pockets
I feel good after seeing that We wil be able to download regional comics and books.I dont think it can outbeat flipkart interms of collection.
Pricing will be a major deciding factor in competition.
I don't get it. What's the point in launching an eBook store?
Kaustubh Katdare

I don't get it. What's the point in launching an eBook store?
Why not?? Libraries are getting outdated and people are moving towards ebooks. Since they are easier to distribute and use and also to reproduce. They are the next generation media source. Ebooks are better to use and cooler than using physical copies that have a lifetime as well as a lot of pains to use as compared to Ebooks. It was high time we had any Ebook library / Store. And I think Flipkart, Amazon, Google and now Aircel have taken this seriously and launched their products. And I am sure this will be evolved in the next year and I see by the turn of this year, we could make excellent use of these services
One of the drawbacks of this web e book store is its points policy. While in other sites the prices of all the books is shown in currency you get an idea on your expenditure but when you exchange points for books you do not get an idea of whether you are getting the books at a cheaper or higher price than its MRP.