Home

>

Apps

>

Groups

>
Windows 10 Overview: The Old's The New New
Question asked by Kaustubh Katdare in #Gadgets on Sep 30, 2014
Microsoft has officially announced the next Windows operating system and if you were expecting it to be called Windows 9, please be informed that the next Windows will be called Windows 10. That's right. Microsoft wants to tell us that they are going a step beyond what's expected and is trying to make things easier for everyone who's used to Windows OS - from the end users to the developers. Here's an overview of what's new in Windows 10, expected to release sometime in late 2015.
Runs Everywhere
Microsoft says that Win10 is their most comprehensive platform ever. That is, it will be capable of supporting a very wide range of devices - from your phones, tablets, laptops, desktops, Internet Of Things to servers in data centers and maybe wearable devices too. Windows 10 supports devices with display sizes ranging from 4" to 80" and even the devices without screens!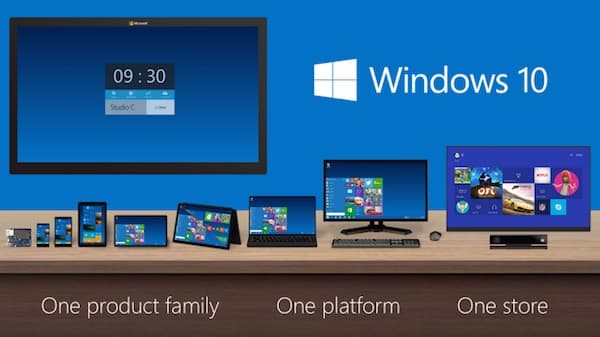 ​
It Looks Like Windows 7
...and that's what Microsoft intended! Microsoft informed the media that a large number of users are still using Windows 7 and they wanted to make the upgrade experience as smooth as possible for everyone. Joe Belfiore said that if Windows 7 was like driving the first generation of Toyota Prius, then Windows 10 is like driving a Tesla. We'll have to wait for the first public beta release of the OS to get that experience.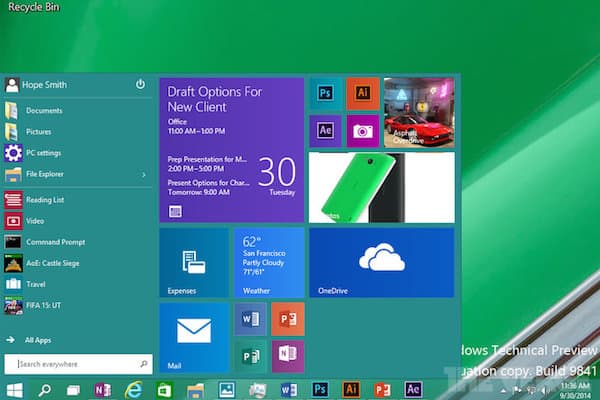 ​
The Start Button Is Back With Lot Of Live Tiles In The Menu
The start button would definitely be among the top 5 virtual buttons pressed ever in the world of computers and for some reason Microsoft had decided to ditch it in Windows 8. If you missed your start button, the good news is that it's making a comeback in Windows 10 - and the menu it opens, has lots of live tiles. Microsoft says that it's bringing the best of both worlds from Win7 and Win8. It also means that you will no longer be greeted by a huge set of live tiles when you start your computer. These tiles can be moved and resized, as per your preference.
Microsoft's also including Universal search; a la OSX spotlight search. And those who love going back to the command prompt - you'll love to know that it now supports
paste
.
There's an 'Insider' program coming up for all the vocal Windows aficionados who'll get access to beta builds before everyone else. Microsoft expects you to voice your opinions right to the engineering team. The feature set is still being finalised and Microsoft promised to talk about them early next year.
Source:
Microsoft Tech Blog
Posted in:
#Gadgets
That search is definitely one of the mostly used feature by me since I don't like to make desktop shortcuts. That tiled welcome screen was just a piece of shit. First time I saw that on an office laptop and I was like "How do you even get to desktop? Is there even one included?". Then the other day, I opened up calculator ( through another painful step of clicking the start button, which covered full desktop with tiled menu. Then finding calculator) and what I see here; it covered full desktop and there's no resizing. I closed it and used the calculator of my desktop instead (which is running CentOS). I mean it was ridiculous. Windows 7 was rather better and have a simple UI. My transition from XP to 7 was seamless. I was overwhelmed with the features which showed up as obvious. You didn't need to scavenge for features. You can see immense improvement right in front of your eyes.
So Microsoft didn't name Windows 9? Was it scared of the running joke that every alternate Windows release was a failure. 😏
The return of the Start button is welcome. The OS looks minimalist enough to run fast on slower computers. I hope the start times are at par with Windows 8 (aka within a minute). The only problem I can see with the new version is with availability of device drivers. When Windows 8 came out, many were scared to upgrade because their 3G dongles would not work with Windows 8 because the companies had not released drivers for Windows 8 in time. If peripheral manufacturers are late this time too, Microsoft could be in trouble.
I missed on point - most of the apps are responsive! Nothing great; but the apps will rearrange the elements to suit the window size. Which basically means that you will have very similar experience on Desktops, Tablets and Mobile phones.
i personally feel that what ever microsoft will roll out it wont even come near to windows xp or 7 which revolutionised our techonology in lot of ways!!!!! it's definitely gonna be another disaster!!!!! and that's for sure.
prahumac

i personally feel that what ever microsoft will roll out it wont even come near to windows xp or 7 which revolutionised our techonology in lot of ways!!!!! it's definitely gonna be another disaster!!!!! and that's for sure.
My opinion is that Windows 10 will be more successful than Windows 8 and maybe Windows 7 too. The primary users of the Windows OS are the 'regular' users who'd feel comfortable with what they're already used to than adjusting themselves to the new interface.
I hope to see Windows in the game too. I've seen a lot of users switch to OSX in the recent times (myself included). I also hope that uBuntu and other UNIX flavours will gain some popularity in coming years.
Windows has taken the right step by bringing back what people are comfortable with. Let's hope for the best.
See what MS Policy says :
If you open a file, we may collect information about the file, the application used to open the file, and how long it takes any use [of] it for purposes such as improving performance, or [if you] enter text, we may collect typed characters, we may collect typed characters and use them for purposes such as improving autocomplete and spell check features
Read more in detail :
https://thehackernews.com/2014/10/download-Windows-10-keylogger.html