Under Armour Gemini 2 – The Smart Fitness Tracker For Your Feet
At the time when everything is becoming 'smart', fitness isn't the one to be left behind. American sports and clothing company – Under Armour unveiled a pair of smart fitness sneakers that can be used to track the amount of workout that you have done. If you are wondering with all the different fitness bands and other apparels already available in the market, a fitness sneaker won't be anything about a fitness
sneaker,
then you couldn't be more wrong.
The most special thing about the smart sneakers is that they actually look like normal sneakers. They can easily be thought of as the normal running sneakers you get in a sports market. However, the sensors that convey the information of the workout are really tiny and are kept within the soles of the shoes. The other special thing about the sneaker is that you need not carry your smartphones with you every time you go out for a workout. You can leave your cell inside the gym locker, workout and then sync up with the phone later. The shoes can actually store the data upto as many as five workouts.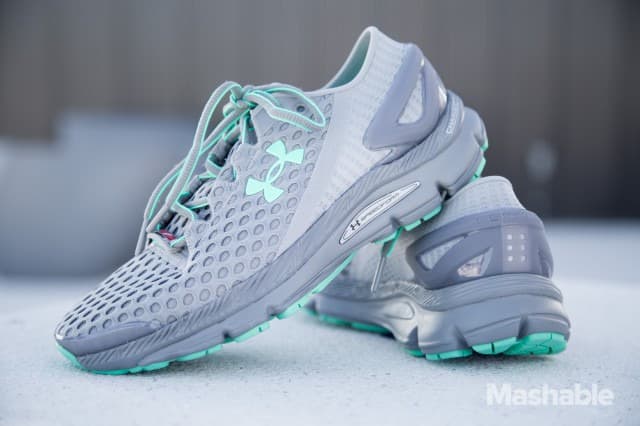 ​
When you actually do sync your phone to the sneaker post workout, you will get all the information about how long did you run, how much did you run, the number of calories you burnt and the works which most smart fitness apparels today offer. The only thing that you require to work with the shoes is the Under Armour's MapMyRun app which syncs with the shoe using Bluetooth. After you have paired the shoe with the app, all you need to do is to shake your right leg to wake up the sensors and you are good to go. Whether to carry your smartphone with you or not is completely your choice.
Under Armour has assured that battery life of the sensors is enough that they will oulast the shoes. So the user need not worry about replacing the battery every once in a while for the shoes to work. The actual cost of the same was not announced but Under Armour said that the sneakers will come in two colours – grey/light green and charcoal/red. The shoes will reach the markets somewhere around March or April.
Via:
Mashable
Be the first one to reply
Only logged in users can reply.