Twitter increases character limit to 280, invites people to write more
Last year we got a buzz flying around about Twitter's character limit that was under the speculation of bearing more characters in tweets. However, ruining the expectation, the chief executive Jack Dorsey convinced the mass to stay with the old limit. This time it seems to mutate to a newer limit for real with a bit of relaxation.
Twitter has officially chosen a random percentage of people who will be using the new limit of 280 characters to make their tweets. The official blog reveals that the idea of increasing the limit came from different languages used and the difference in the amount of information shared with those characters. As an example, Aliza Rosen and Ikuhiro Ihara volunteered to find how much information can be shared with two different languages.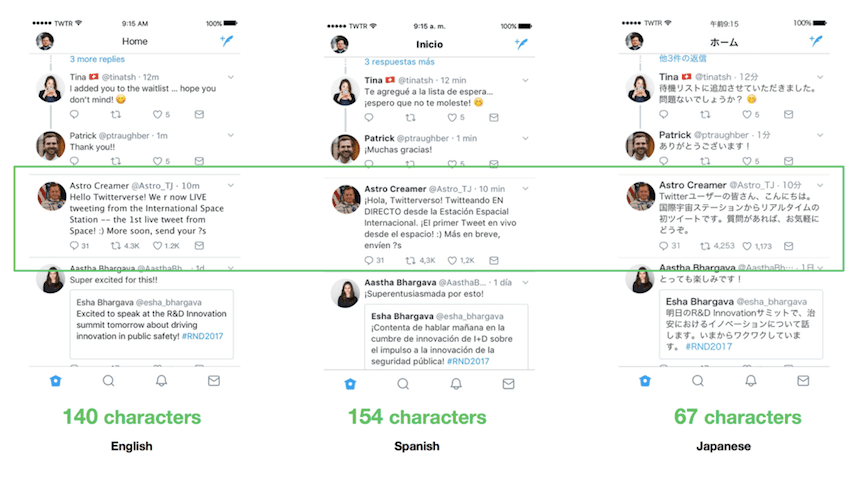 ​
The result showed, while Aliza needed to cram down her thoughts in English to fit into 140 characters, Ikuhiro could easily manage his Japenese tweets in less than that of the limit. The reason was, in Japanese, Korean, and Chinese one can store much more information than other languages. Twitter wanted to change the discrepancy so they inserted 280 characters for all other languages except those three.
When asked, Twitter denied commenting on how the selection was done but it has mentioned, a small group out of its 328 million users will be able to use the feature. If you are feeling lucky, you might log in and try.
As per Twitter's statistics, a small percent (0.4%) of Japenese tweets hit the old set limit of 140 words whereas 9% of users using other languages hit the limit. The official blog reports most of the Japanese messages done on twitter are 15 characters long whereas most English tweets are 34 characters long. The research indicates the twitter limit causes frustration and many times, the essence of the message is lost.
According to the source, this new beta feature launched for random people will help them decide whether to go with this new update or not. While we will miss the old twitter restrictions, more people will enjoy writing.
Source:
Twitter
I don't get the point. Increasing the character count would allow people to be more expressive but how does it benefit twitter? I think all they want to do is make people more active on their platform; but I'm not sure this is the right step.

Let's see.
Only logged in users can reply.