Home

>

Apps

>

Groups

>
Our Future Teacher Could Be A Robot, Thanks To AI Researchers From Madrid
Question asked by Debasmita Banerjee in #ML & AI on Oct 24, 2016
Will you accept robots as teachers or will your human ego come first to negate any such possibility? Irrespective of your choice, our immediate future generation might face robots on the other side of the class. These new species' has already entered human society and are working, hand in hand with humans. Being one step closer, they will soon be introduced as the tutors/instructors in primary school. Dr Imbernòn Cuadrado with his team at the Department of Artificial Intelligence in Madrid have developed an integrated computational architecture (ARTIE) with coupling software facilities that can take the previously told process one step closer to the reality.
It is said that teaching is an art. And that means it requires an inborn talent with practice and experience plus patience to understand a student's mind. Making this possible, the team made tool can help serve bots to comprehend an emotional state of primary school children by checking its interaction with educational software. And the results will simply be communicated to the robots from which they will learn their job corresponding to each student.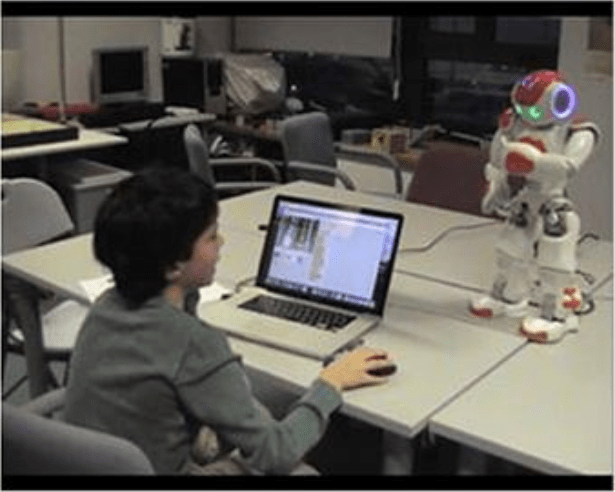 The Tutoring Experience In Frame
​
Although, digital learning is out there, they don't come under the popular choice of education. Plus they lack the skills and emotion required to handle the younger minds. As a solution, the team's approach to make these learning assistants cum teachers was successful. Initially the research team identified a set of cognitive states (concentrating, distracted and inactive) which can determine the student's engagement. Keyboard strokes and mouse actions of children were the key element to explore their mind state which was later involved with an algorithm to detect the correct form of pedagogic intervention.
Dr. Cuadrado mentioned that their system has proven to be effective for detecting primary emotion. The system was tested with the help of two primary school volunteers who admitted that they would learned more with their normal teachers but were more relaxed in front of the robot teachers. While it has to go long way to reach commercialization, the research paper has been already published in open access journal Frontiers in Computational Neuroscience.
Source:
Frontiers
Posted in:
#ML & AI