OnePlus 2 Gets Extended Warranty And Insurance Through B2X Service & B2X Protect In India
Warranty, servicing by authorised experts and insurance were some of the prime concerns for OnePlus 2 phone buyers in India. The Chinese smartphone maker, which takes India as its one of the most important international markets has addressed these concerns through announcement of B2X Service and B2X Protect plans.
The company announced through a blog post that protection and insurance of digital products has become a mandatory requirement these days. Backing up its product with great customer care, servicing and insurance is a part of its mission to develop a personal connect with its customer base.
OnePlus has tied up with B2X Service Solutions and Regenersis India Pvt. Ltd. to ensure customers get hassle free servicing and insurance. Both the B2X Service and B2X Protect options are available for OnePlus 2 buyers in India. The company makes it clear that these plans are not available for the buyers of original OnePlus One phones.
The B2X Service will cost ₹999, inclusive of all the taxes to offer an year of extended warranty, after expiry of the initial first year which is standard for all the OnePlus 2 phones. B2X will provide all the customer care in India and offer phone repairs from authorised experts. OnePlus promises direct support by authorized service centers and single window support to the customers.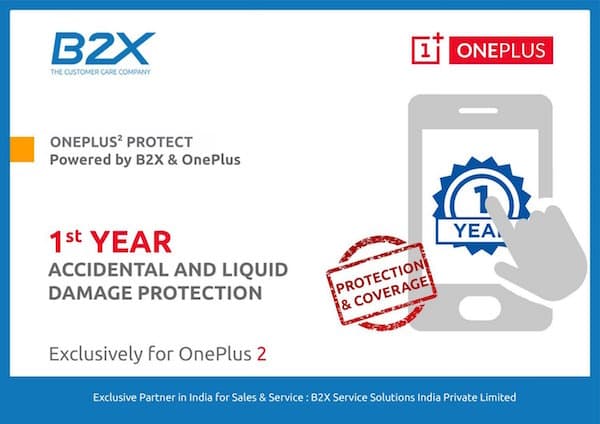 ​
The customers of OnePlus 2 must purchase the B2X Service plan within 30 days of buying the phone and register on B2X Care portal within 7 days of buying the plan. Customers will receive all the relevant document along with a 'welcome email'. B2X may deny coverage or support if the consumer fails to register the phone within stipulated time.
The potential buyers of B2X service are advised to look at all the 'exclusions' before they decide on extending the warranty. Check source link below for details.
The B2X Protect plan costs ₹1,299 inclusive of all taxes and promises protection physical, liquid and accidental damage to your OnePlus 2 phone for the first year. While most of the regular warranties cover only the manufacturing defects, OnePlus 2's B2X Protect covers damage to internal electronics and damage by fire, lightening, explosion et al.
Check out the details and make a purchase on Amazon using following links.
Source:
B2X Service
(Amazon) |
B2X Protect
(Amazon)
Curious to know if anyone's buying these plans?
Only logged in users can reply.