NS Savannah: World's First Nuclear Merchant Ship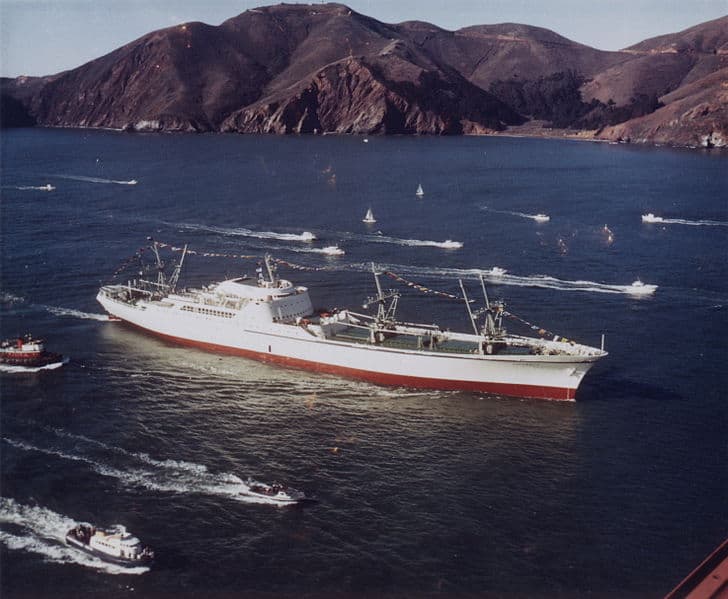 The United States first and only Nuclear powered merchant ship was designed in hopes of finding peaceful uses for Nuclear energy as part of the Atoms for Peace program. President Eisenhower had the ship built in the late 1950s at a cost of $46.9 million, which included a $28.3 million nuclear reactor and fuel core. At 596-feet-long she was the pride of the fleet with sleek lines like that of an oceangoing yacht. During her short 5 years of service (1965-1970) she saved over 29 million gallons of fuel oil but her high maintenance cost led to her downfall. In 1981, the
Savannah
was brought back to her cold war glory by re-activating her as a museum ship offering Americans a glimpse into the atomic age. Visitors could walk the ship's decks and even tour the reactor from an observation window as well as look into staterooms and passenger areas but in 1994 the charter was terminated. The Maritime Administration, who is responsible for overseeing the
Savannah
, had the ship moved to Baltimore where she remains under a 3 year, $588,380 U.S. Maritime Administration contract with the Vane Brothers' shipyard at the Canton Marine Terminal. Once the
Savannah'
s DDR (Decommissioning, Decontamination and Radiological) work is completed the U.S. Maritime Administration plans to eventually donate the famous maritime relic as a museum or public attraction.
Official website link:
https://nssavannah.net/
A small NS Savannah Documentary:
Okay, that's not a Civil Engineering project right? I'm moving it to automobile engineering section.
Yes, I was confused. I was yet to read a little more about this project, but was feeling sleepy. So posted it in a little hurry. 😀
Only logged in users can reply.