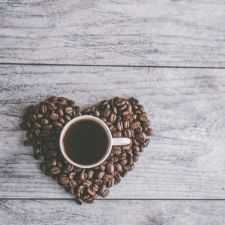 Coffee Room
Discuss anything here - everything that you wish to discuss with fellow engineers.
12921 Members
Join this group to post and comment.
JioPhone - Complete Features Overview & Price
Reliance Jio top boss, Mukesh Ambani has announced the latest disruption in Indian telecom market, called 'JioPhone'. But not only that, Ambani backed it up with innovative price plan. The JioPhone will be available for beta testing starting August 15 and pre-booking will begin on August 24 August. We'll bring you more information about the phone and booking through various discussions on CrazyEngineers. Let's look at the feature list of the phone and what you'll be paying to get it.
As you'd expect, the JioPhone is a 4G VoLTE phone. Ambani did not mention whether the phone is locked to Jio network; but it likely is. The phone will support about 22 Indian languages. While the phone does have a physical keyboard, it can accept voice inputs. The voice powered service seems to be powered by Google Voice assistant and allows you to make calls or send messages and even browse the Internet by issuing voice commands.
The phone will also come preloaded with Jio Apps like Jio Music, Jio TV and Jio Cinema. The phone seems to have a loud inbuilt speaker that eliminates the need of using headphones. The phone is also equipped with emergency contact feature, typically found on smartphones. In order to activate it, user will have to long press the #5 key on the keypad. The phone will then send SOS message to the preset phone numbers. The distress message will include your current location as well so that you can be easily tracked.
An important feature that will be unlocked through firmware upgrade in September is NFC. Ambani informed that users will be able to use it to link their AADHAR and PAN numbers and then make payments just by tapping on the POS consoles. We believe a feature phone with NFC payments capability will offer a huge push to the Digital India initiative.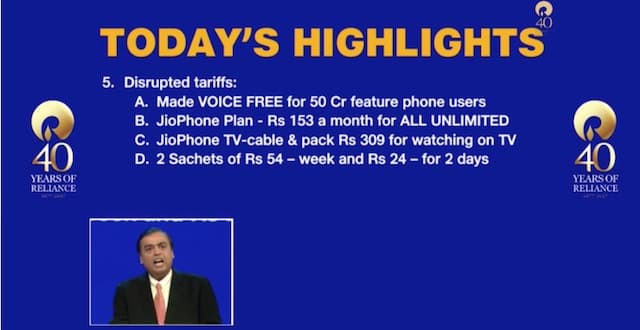 ​
Jio phone will have free voice calling to any network all over India, forever. Ambani said that it's ironic that the smartphone users pay nothing for the voice while smartphone users have to pay about Rs. 150 or more for voice calling. Jio is disrupting that with its Rs. 153, everything unlimited plan only available for JioPhone users. The phone will have Jio Dhan Dhana Dhan offer available exclusively.
An important accessory that will be made available with the phone is the Jio Phone TV-Cable. Those who subscribe to the Rs. 309/month pack will have access to about 3-4 hours of video content that can be played directly on any TV, including the old CRT TVs. We are not sure if the cable will be included along with the JioPhone or needs to be bought as a separate accessory.
In order to reach as many consumers as possible, Jio announced sachets recharges viz. Rs. 24 for 2 days and Rs. 54 / week. The pricing is likely to give sleepless nights to Jio rivals in Indian Telecom Markets.
Mr. Ambani also announced that the phone would be made available effectively 'free of cost'. The users will have to deposit Rs. 1500 with Jio which would be refunded completely after a span of 3 years. There were rumors that Reliance would charge Rs. 500 per unit. However the new pricing plan is likely to attract a lot of consumers to Jio network through JioPhone.
Do you think we are witnessing another disruption in connectivity in India? Let us know.
We'd try to get our hands on the JioPhone as soon as possible and review it for you. If you have any questions about the phone and have comments, do post them below.
Btw, Ambani also hinted at the upcoming JioFiber and I got a news from the insiders that the service is likely to be announced towards Diwali time. The plan seems to be about offering 500 GB of data for Rs. 500 ☕
The JioPhone is a déjà vu, Reliance India Mobile had the same ideology. The only difference is the Jio is in it for the long run. They have invested Rs. 200000 crore in this enterprise and they will get their money's worth once they emerge the market leader. Currently they are being used as secondary SIM for majority of users.

Coming to the JioPhone itself, the whole Rs. 0 price tag is a misnomer. You pay Rs. 1500 as security deposit which will ONLY be returned once you give back your JioPhone back to Jio after 3 years. Since it's a dirt cheap feature cum smartphone I doubt whether it will last for three years.

The JioPhone plan of Rs. 153 has a FUP limit for 500MB and even though you can use Jio apps but we do not have any confirmation if you can use other apps like WhatsApp and Facebook.

The whole JioPhone TV-Cable is great until you realise that you can only watch 3-4 hours of you opt for Rs. 399+ Jio Dhan Dhana Dhan pack. The JioPhone exclusive 500MB plan would last for about 30-45 minutes of video playback.
Satya Swaroop Dash

Coming to the JioPhone itself, the whole Rs. 0 price tag is a misnomer. You pay Rs. 1500 as security deposit which will ONLY be returned once you give back your JioPhone back to Jio after 3 years. Since it's a dirt cheap feature cum smartphone I doubt whether it will last for three years.
That's actually true! People's aspirations change and I'm quite sure that no one's going to maintain a feature phone for 3 years and very people will think about getting a refund. What Reliance wants to do is tie people in with their network for a period of 3 years and make them consume their data; where I believe the real money is.
It's like offering a car for free, when actually you are in the business of selling fuel.
I really wonder how does the economics of data work for Jio. Either we were getting looted by 2G/3G service providers for long time or data actually is super cheap. Does anyone know how much does Jio make through data. Maybe we need to look at how much does it cost Jio to offer 1GB of data?
Update: Just came to know that the phone runs on custom fork of the Firefox OS. Now there are quite awesome points that struck my mind. The biggest of them all: Jio's quest to be come the 'Internet' for Indians. Facebook and Google tried to do this but failed. Jio now is on its path to own the Internet and is going to control user behavior.

Jio is the new Facebook, folks! Deal with it!
I was having a discussion with my friends about how Jio's going to make money through the 'Free' phone. Here's what we calculated: -

First: Every JioPhone will require the user to buy a minimum recharge plan of Rs. 153/month. There are other plans available - Rs. 309 and Rs. 509 per month. We'll do that calculation separately. Let's only calculate the basic costs.

1. Security deposit (refundable) : Rs. 1500
2. Using Rs. 153/month plan for 3 years: Rs. 153 x 36 = 5508
Total minimum cost of using JioPhone for 3 years: Rs. 7008.

Jio promises to give you back Rs. 1500 if you remain loyal and continue to use the same basic phone for 3 years.

Not a bad deal for 4G data!
Its clearly going to help people to have affordable package and enjoy internet and help students to learn more.