If You Hate Standing In Queues, Nissan ProPILOT Chair Is To The Rescue
No one on earth has ever said that they like standing in long queues. Anyone reading this article knows that there is no alternative to this but what if we say that there was. Nissan in Japan has employed its intelligent mobility technology to create a not-so-revolutionary product. The team at Nissan has developed the new ProPILOT Chair that is based on its Intelligent Parking Chair. The ProPILOT Chair automatically queues on behalf of its occupant saving its rider from the hassle of standing in line. The ProPILOT Chair has been equipped with the company's flagship autonomous driving technology that enables you to follow the person ahead of it maintaining an appropriate distance both ahead and behind.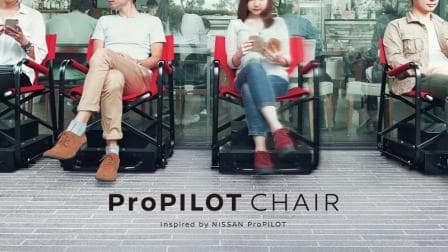 ​
So how does the Nissan ProPILOT Chair work? Well a set of Nissan ProPILOT Chairs are laid out in a line. When the occupants move ahead in line and vacate the chair, the empty chair automatically moves to the back of the queue with the help of its on board cameras to sense the surroundings. The Nissan ProPILOT Chair follows a straight line all on its own. Nissan has successfully employed this technology on the on the Serena minivan in Japan since August. This is Nissan's way of demonstrating how their autonomous driving system ProPILOT works. The only problem is that you won't be able to buy this chair any time soon. The ProPILOT Chair will be supplied to restaurants in Japan who participate in a social media campaign that is being held on Twitter from September 27 until December 27. The restaurants will be able to use the chairs by early 2017. You can see them in action in the video below.
Source:
PR Newswire [Nissan]
via
Engadget

Great!! Bro>>>😀
Only logged in users can reply.