How are collapsible stainless steel cups made?
These cups are shorter in size. They can be expanded like telescope and used it for drinking water or juice. after use, again press it to shorter size.
Hello @srikanth‍ I think you are talking about these -
Is that correct? Are you asking about the process to manufacture such cups in India?
Hello @Ankita‍  you are right. I need to know how cups are placed, you see when liquid is poured it should not leak. Then how cups are placed?

This is really interesting. @srikanth‍ I have never seen one in my entire life. I guess all the different collapsing parts are attached to each other? Therefore, there is no scope for any liquid leakage. Sounds pretty straightforward to me. 
See this image for reference -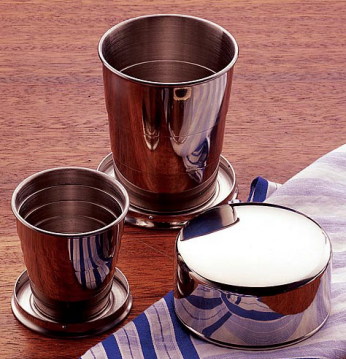 Each section is a section of a cone. The top dia of each section is slightly more than that of the bottom dia of the section above. The bottom most section has a base. All sections are assembled together first. The bottom section is then welded to the larger dia base. When the topmost section is pulled up, it goes up till the next section catches the bottom dia of the top section. As the pulling continues , one by one all sections come up. Once all are up, a slight pull makes each section to lock with the one above by elastic deformation so that a leak tight joint is got.
Only logged in users can reply.