TieCON Nagpur 2012 Live Blog: Day 2
CEans,
The TiE Conference is being held at Nagpur and the CE Team is bringing you the latest updates from the conference. Today's live blog begins at 10:00 AM (approximately an hour from now) and you can get all the updates in this place.
We've an impressive speakers list today and we'll reveal the names soon. Come and attend the conference with us! 😀
Feel free to share your thoughts and comments in the comments in real time. We'll read your comments and reply them - everything in real time 😀
Visit:
The TieCON Nagpur Day #1 Live Blog
We all are here again.
The event has begun. 👍

[We are struggling because of poor internet connectivity.]
The inaugural session is over.

Warren Buffet was quoted by Mr. Shashikant Chaudhari (Global Logic), "When people become greedy, be fearful and when people become fearful, be greedy." 😁
Right now on stage is Dr. Ashwin Naik talking about 'organized scaling up' using his examples from healthcare industry -> specifically Vaatsalya Hospital Group.
Alright, Mr. Naik has used prezi for this presentation. 👍
He says he and his friend wanted to start a company, because no one was ready to employ them. 😁
Good to hear to this happy-go-lucky gentleman. Even though his area of business is not relevant to most people present here, he has kept everyone glued.
5 children and 4 autorickshaw stands have been named 'Vaatsalya' after being treated at one of their hospitals.
Good point -> Leader should be able to stand alone and look ridiculous. 😁

Video is being played.
Found the video on youtube! Do check it out folks -
When you find a lone person doing great work, be the first person to stand up and join him.

#remember
After a really big round of applause, its time for questions from audience.
Mr. Naik raised a point about how they employ the doctor parents of children who opt out of medicine industry.
And the next in line is Mr. Ravi Pandit, CEO KPIT Cummins <climbing up the stage right now>
This is going to be more of an interactive session. We have Mr. Shashikant Chaudhary and Mr. Pandit sitting on couches and he says he is open to questions.

So, CEans if you have any, share them with us RIGHT NOW.
I feel Mr. Pandit looks a lot like Mr. Bill Gates from his younger days.
[No internet connectivity.]

We will try to come back as soon as possible.
A session for startups now going on. On the dias is Ms. Sharda Balaji.
She is focusing on technical aspects like - When am I ready to incorporate? When to get external funding?
Oh! And I didn't mention that she is by profession a Legal Counselor and Corporate Secretary; and is co-founder of Novojuris Services India Pvt. Ltd.
The intricacies of Incorporation's being discussed!
In India it takes 10 days while in Estonia it takes just 15 minutes for incorporating a company.
In US, less than a day.
Statistics on Incorporation on the chart right now!
In US, it takes less than a day! Whereas in India, it takes about 10 days! ☕
Agreements that we need -

1. Employees - Offer letter. Emp agreements. Emp. NDA and Policies
2. Vendors - Payment cycle. Cash flow management.
3. Customers - Pules on account receivables.
4. Affiliates
5. Consultants
Sharda Balaji on-stage: 👍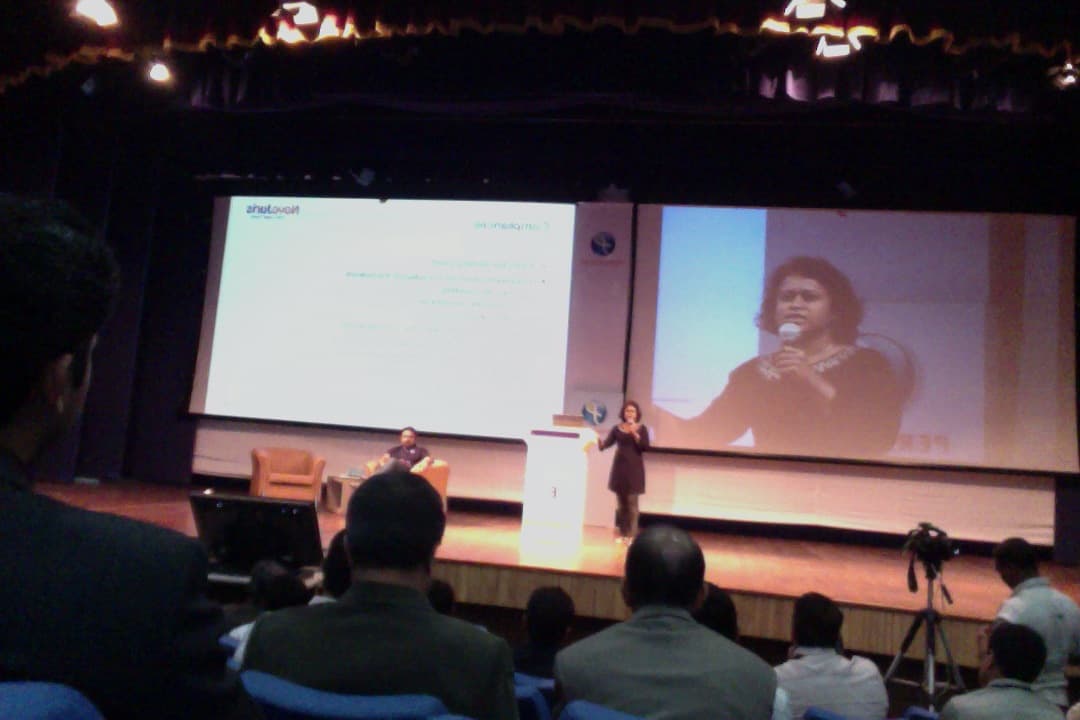 Sources of funding for startups -

FFF - Friends, Family and Fools. 😉
All the talks today so far have been engaging! Some really great quotes that need to be shared-

1)In India, even while crossing the street you need to be innovative! The audience-->😁

2)Start-ups are like marriages. Earlier, everything seems to go well, but after the honeymoon period is over, you need to be cautious and try to maintain the same chemistry, or better chemistry. So, always be the cautious husband in the marriage, where the wife's behavior is just not predictable, and try to maintain a healthy relationship! Again, the audience--> 😁 <slow claps> 👍
Engineers are lucky that they have CAs to look after their funds and the difficult terms like 'dilution, liquidation preference, ESOP Pool etc.'
Guys, we couldn't cover the entire event because we had no internet connectivity. 😔

PS: This is my 5000th post on the forum.

Well, AKD, Patty and Biggie were awesome at the event. They networked very well.
I was bored. But the talks were very interesting.

Anyways, got to talk with people I really wanted to talk with (this was done behind the scenes, no body knows about it. Not even the CE team 😉)
They said that my idea has feasibility. But needs more refinement and a lot lot more hard work.


Finally sorry for not being able to cover the event. #Disheartening.
Only logged in users can reply.