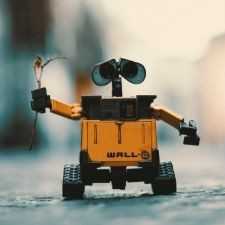 Robotics
Community of Robotics Enthusiasts: Discuss latest robots and questions with fellow robot lovers
604 Members
Join this group to post and comment.
This motorcycle riding robot will blow your mind
What you saw in movies like Terminator is now coming to reality. Well, not the human killing robots; but at least the robots that can challenge humans in motorcycle racing! Yeah - Yamaha engineering team has developed a robot that can ride a motorcycle like a professional motoracer. Here's a video-
The Yamaha MotoBot may begin competing in the motorcycle racing in coming months and I'm sure it will win all the competitions hands down. In my opinion, this is the point in time where robots will begin showing human their place in the Universe.
Does this excite you or scare you?
From the Japanese part of the title - The video is dedicated to Valentino Rossi, the Italian motorcycle racer who is a multiple MotoGP World Champion.
Mind = Blown!
A lot of people are saying that they should've instead made the bike self-riding. But I think this is WAY MORE COOL.
Making it self riding is no brainer and I expect this to making to real racing competition as early as 2020. Honda, Yamaha's rival in two wheeler segment has already built ASIMO which know how to balance itself and balancing a motorcycle won't be too hard a challenge for them.

I'm worried!