Home

>

Apps

>

Groups

>
Temporary Tech Tattoo Monitors Your Health Stats And Sends Them To Your Phone
Question asked by Satya Swaroop Dash in #Coffee Room on Nov 25, 2015
Apart from discreetly delivering your smartphone app notifications, wearables have started informing you about your health. It's a year later and they are still limited to heart rate tracking but if a software firm from Austin, Texas has its way then we will be sporting something that is inconspicuous and delivers much more health stats than any other wearable in the market. The company is calling its new creation "Tech Tats" and as you might have already guessed they are tattoos, well sort of. Tech Tats is a collection of biosensors that can be laid out on any part of your body and not just your wrist.
​
At the heart of Tech Tat lies an ATiny85 microcontroller. This microcontroller receives information from the temperature sensors that are spread out on the tattoo. These temperature sensors monitor sweat, heart rate and hydration levels. Electro-conductive paint in the tattoo serves as the circuit that connects all the components. The microcontroller transmits the information to the smartphone app via Bluetooth Low Energy. Tech Tats are temporary and can be stuck to your body just like the stick-on tattoos you used to put on as a kid. This will be a respite for people who are afraid of needles and a permanent scar on their body. This also means that it is safe for children. Party people will be glad to know that the company has plans to put ambient light sensors for the LEDs on Tech Tats that shall light up in the dark.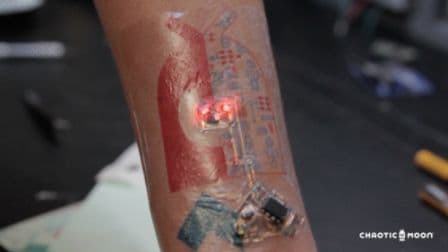 ​
The product is in its nascent stage and Chaotic Moon admits that it has a lot of R & D to do before putting the product for sale. It has begun consultation with the medical sector to find out if Tech Tats can be used to monitor stats of hospital patients. As Tech Tats are temporary and can wash off with a rigorous rinse, they shall be sold on bulk and the team is hoping that this will help keep the costs to a minimum. They are also envisioning a future where Tech Tats can also substitute NFC-based payment platforms such as Android Pay and Apple Pay. All of that is in the future, for now though you can watch a video demonstration of Tech Tats below and read more about them in the following source links.
Source:
Chaotic Moon
via
Motherboard
Image Courtesy:
TechCrunch
Posted in:
#Coffee Room