Home

>

Apps

>

Groups

>
Quixey - The App Search Engine To Help You Find The Perfect App
Question asked by Akhilesh Garud in #SEO on Jun 18, 2014
Finding the right app in the vast sea of apps market, which is expanding every day, is not an easy task. Quixey is a new search engine which helps you find apps that suit your needs. A California based company, Quixey is now developing a new search engine that can see inside apps to find what you need. Quixey's vision is to add a search box to your phone to take in queries and produce a list which takes you to the relevant function of an app. This search engine helps you find applications for Android, Blackberry, Windows phones, iPhone and iPad.
To search anything in this search engine, all you have to do is search for the keywords. For e.g. if you want to find apps which give information about local restaurants, you just have to type 'discover local restaurants' in the search box. The results will show a list of applications which give you info about the local restaurants. This list will be arranged in descending order of their ratings i.e. top rated app will be first followed by lower rated apps. To help you find better, Quixey has added another option which helps you to find free apps as well as paid apps.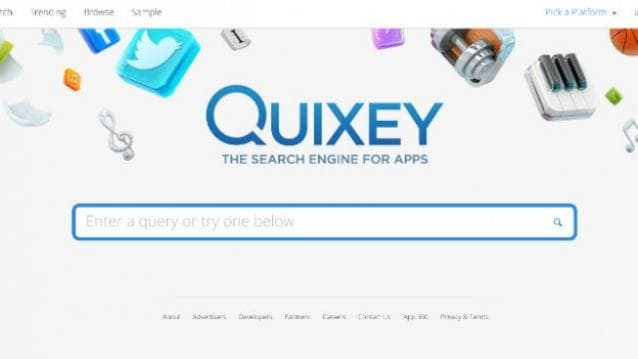 ​
When you click on any app, all its info such as description and screenshots will appear. Also, it'll give you a list of similar apps and more apps made by its developer. There is also a good news for developers as Quixey will help you in promoting your app if they think it is good enough.
I think Quixey, the startup has definitely come up with a product that users wanted for some time now. What do you think about this new search engine? Share with us in comments.
Source:
Quixey
Posted in:
#SEO