CrazyEngineers V4: Early Access
We are developing the next version of CrazyEngineers. If you wish to receive latest updates and early access, click the link below.
Home

>

Apps

>

Groups

>
Printone Enables Music Lovers To Create The Musical Instrument Of Their Choice
Question asked by Debasmita Banerjee in #Coffee Room on Dec 6, 2016
The sound of music has the power to change our mind, following a quick psychological impact. While people tend to listen to different music based on their mood, they might want to fabricate a standalone music instrument of their own with the least effort possible. Can we imagine the combo? Now we can, with the help of the latest interactive design tool "Printone" developed by a group of scientists from the Dartmouth College and Autodesk Research team. As they confirm, with their latest Autodesk tool, a novice can design a masterpiece – a wind-type musical instrument.
In the corresponding research, the team has devised a total of 16 instruments to generate different melodies. According to Nobuyuki Umetani, head of the design and fabrication group at Autodesk the motivation behind their work was to open the world of designing to music enthusiasts. If we consider a look at the conventional wind instruments, we will find them basically the same having a hollow tube inside. This is done to channel the vibrations that can create acoustic resonance. However, the newest tool challenges the design concept by promising to turn a free-form model to a musical instrument.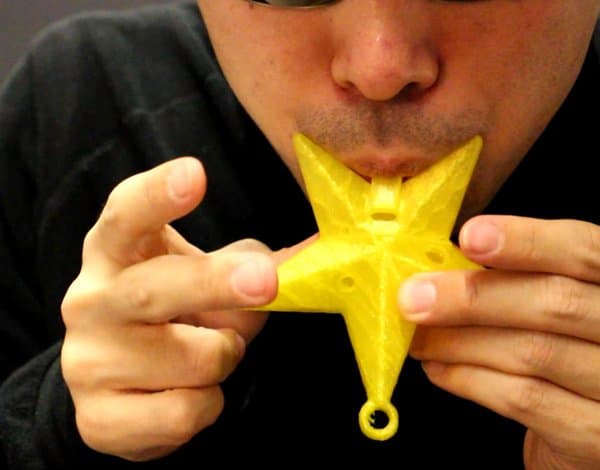 The Ready-made Wind Instrument With Printone
​
With this tool, any 3D model could be changed to the promised instrument. Referring to Autodesk's YouTube Video, the user interface seems to be user-friendly. After importing the mesh-model of your preferred structure, the software automatically generates the internal cavity. Thereafter, the tool runs a check to find the most suitable place to place the fipple with respect to your choice. In each case, the tool provides a simulation feedback on tones and how it changes with respect to the size and position of finger holes and fipple.
Printing technologies have come a long way with 3D printing and this time, the tool echoes the truth that software defined changes can modify the physical behavior. One of the co-authors of its corresponding paper implied, the next work will be related to ergonomics of the tool for better finger-hole configurations. As a one line explanation of its nature, the computational program chooses the dominant tone to house the device, not the entire frequency spectrum. The research paper will be published this week at the 9th ACM SIGGRAPH Conference and Exhibition on Computer Graphics and Interactive Techniques in Asia.
Watch the video to know more about the tool:
Source:
Autodesk Research
Posted in:
#Coffee Room