Home

>

Apps

>

Groups

>
Princeton Researchers Build Rice-Grain Sized Laser Powered By Single Electrons
Question asked by Ankita Katdare in #Coffee Room on Jan 15, 2015
A laser device the size of a rice-grain, that uses one-billionth of the electric power a hair dryer needs, has been built by Princeton University researchers in their attempt to study quantum computing. Set out to demonstrate the basic interactions between the moving electrons and light along with an aim to explore the use of quantum bits (or qubits), the research team at Princeton led by Jason Petta, an associate professor of physics, build a super tiny microwave laser (or what's called a 'maser') which is powered by single electrons channeled through quantum dots. These quantum dots are nothing but the smallest components of semiconductor material that act like single atoms. Take a moment to let that thought sink in and realize that this is a significant step towards developing quantum-computing systems of the future out of semiconductor materials.
If you thought electronic devices are only getting smaller by the day, here's something to prove you right. With a rice grain sized laser, the researchers have demonstrated that the single electron devices can become as small as possible.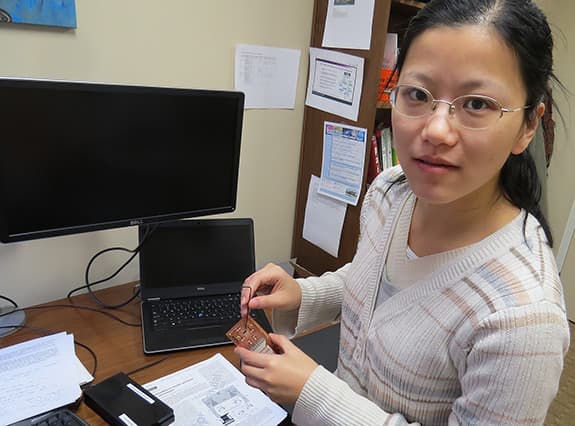 Yinyu Liu, first author of the study and a graduate student in Princeton's Department of Physics, holds a prototype of the device.​
Prof. Petta's laboratory had set the goal of getting double quantum dots to communicate with each other. As it was known to the team that the quantum dots could communicate through the entanglement of photons, they designed quantum dots that emit photons when single electrons jump from a higher to lower energy level in order to cross the double dot.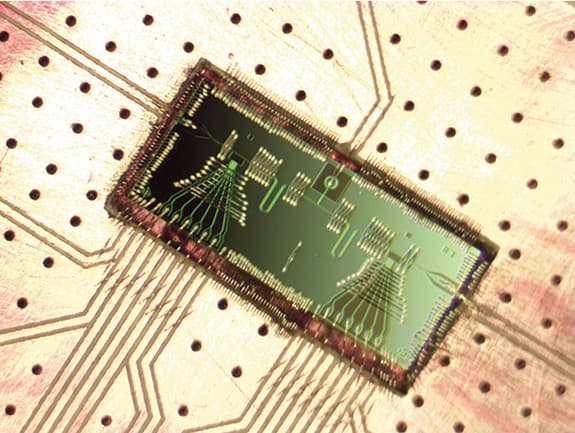 The rice-grain sized laser or maser.
​
This research was supported by the National Science Foundation, DARPA QuEST, the David and Lucile Packard Foundation and the Army Research Office. The team has submitted a paper titled "Semiconductor double quantum dot micromaser" in the journal Science on Jan. 16, 2015. The paper dives deep into information about the fundamental interaction between light and the moving electrons. The interaction shows how the coherent microwave field is created and amplified. By understanding how to control these processors, the light sources of the future could be developed.

In fact, Claire Gmachl, a pioneer in the field of semiconductor lasers, believes that the research work in such masers could impact sensing, medicine and many other aspects of modern life in a significant way.
​
Source:
Princeton University Research
Posted in:
#Coffee Room