Home

>

Apps

>

Groups

>
New Technology That Prints Using Plasma
Question asked by Debasmita Banerjee in #Coffee Room on Mar 23, 2016
Printing technology has dramatically evolved through the ages, from three dimensions to four dimensions at present and now it is set to include the 4thfundamental physical state of matter, plasma in it. Scientists from NASA's Ames Research Center have engineered a process mechanism that manipulates plasma to form shapes using nanomaterials, on a 3D flexible surface such as paper or cloth. After commercialization, this could modernize wearable biosensors, chemical technologies, memory chips and integrated circuits.
One of the prevalent methods of depositing nanomaterials on top of an existing layer is to use inkjet printing technology. However, it restricts the user to print only on malleable surfaces and requires liquid ink which imposes limitations on materials to be used as the filling material. Nanomaterials can be printed using aerosol printing techniques but initially, the material needs to be heated to several hundred degrees to transform it into a thin film. Meyya Meyyappan of NASA Ames Research Cente claims that the plasma process does not require heating to be performed and it can easily work in temperatures as high as 40 degree centigrade. Also, it diminishes the need of a liquid material ink.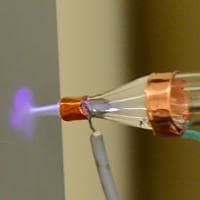 ​
The nozzle firing a jet of carbon nanotubes with helium plasma off and on​
To test the method, the team printed carbon nanotubes on a piece of a paper. Carbon nanotubes were at first mixed with plasma of helium ions, before being impressed on a piece of paper after originating from a nozzle head. With the help of this, the team devised a chemical sensor which detects ammonia gas and a biological sensor that detects dopamine, a molecule responsible for disorders like Parkinson's disease and epilepsy. Impurities in carbon nanotubes implanted a change in electrical resistance, which in turn helps in identifying the molecular concentration.
Meyyappan explained that the system helped the team to achieve a consistent solution which may have a positive impact in upcoming medical and chemical technologies. Also, a nozzle based integration helped the system to be more reliable and simple to use. The future goal of the team is to print other kinds of materials, such as copper so that same technology can be applied to design battery elements. The complete research was published in the Applied Physics Letters journal.
Source:
AIP
Posted in:
#Coffee Room