Home

>

Apps

>

Groups

>
New Technology Could Make Counting Molecules With Smartphone Possible
Question asked by Debasmita Banerjee in #Gadgets on Feb 28, 2016
Rustem Ismagilov and his subordinates, comprising a group of chemists and chemical engineers from the California Institute of Technology have fabricated a quantitative visual read-out system that can unambiguously calculate the number of single nucleic-acid molecules.
Diagnostic centers possess a limited scope when it comes to detection methodology using sophisticated instruments. To aid the concurrent process, scientists have finally come up with a solution, which needs at most a standard smartphone camera.
Their research is based on a microfluidic technology called SlipChip, which was born in the Ismagilov laboratory years ago. A slip chip is a lab-on-chip device which precisely quantifies the concentration of single nucleic acid molecules. Each SlipChip, i.e. one from relatively placed plates are embedded with a complex algorithm that helps segregate single molecules of DNA or RNA from the chemical reactants in nanoliter-sized wells.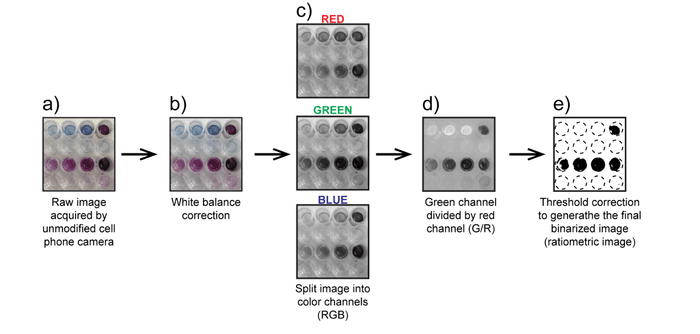 Each step of the algorithm

​
The latest visual read-out system is made on the slip chip platform which consists of a weight dependent indicator. A well containing RNA molecules would give a blue signal whereas an empty well would turn purple.
To comprehend the results, the user only needs to take a snap of the complete SlipChip using his smartphone camera. Then the captured pictures are analyzed using an image processing technology. A novel ratiometric approach matched the colours corresponding to their meaning, which could either be positive or negative.
Jesus Rodriguez Manzano, a postdoctoral research scholar explained that their research has developed rapidly and in an autonomous manner requiring the least manual prediction, which in turn results in error less reports. The research was titled as "Reading Out Single-Molecule Digital RNA and DNA Isothermal Amplification in Nanoliter Volumes with Unmodified Camera Phones" and was published in the February 22 issue of the journal ACS Nano.
Source:
Caltech
Posted in:
#Gadgets