Home

>

Apps

>

Groups

>
MyFC PowerTrekk - Charge Your Cellphone With 'Water-Powered' Charger
Question asked by Ankita Katdare in #Coffee Room on Apr 30, 2013
It is amazing to see the pace of research happening in the field of batteries and chargers. Given that 'going compact' is our anthem and cellphones or handhelds the present and future, we are going to need to carry some of these innovationsas we pack our travel bags. MyFC PowerTrekk, is a one-of-a-king charger that works on water. Yep. Thanks to Swedish research, what we have here is the World's First water-activated charger.
It so happens that the scientists from KTH Royal Institute of Technology in Stockholm used a micro-fuel cell technology and some ordinary puddle of water (fresh from tap or a mug full from the sea) to extend the life of a battery used in devices of up to 3 watts. Anders Lundblad, KTH researcher and founder of MyFC, even says that the water need not be even completely clean. How does this thing work, you wonder? Well, a USB connector attaches the compact PowerTrekk charger to the device. When plain water is poured onto a small recyclable metal disc inside the unit, hydrogen gas is released and combines with oxygen to convert chemical energy into electrical energy. The resulting charge is enough to power an iPhone to between 25-100% of its battery capacity.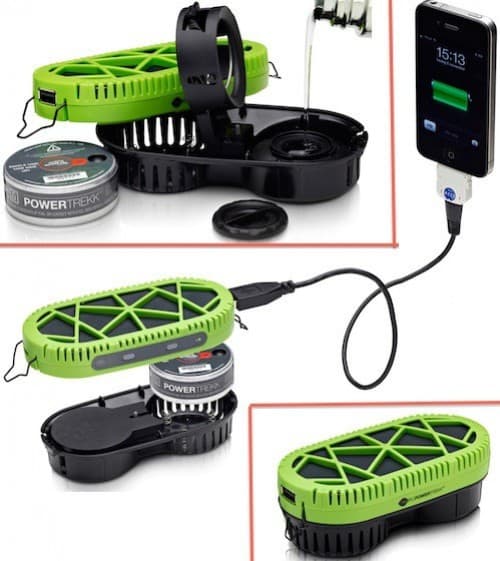 ​
If that isn't amazing enough, you would love to know that the team of researchers is now aiming towards building fuel cells in laptops. Though a bit expensive now, it is only a matter of time when fuel cells reach the masses and prices come falling down. And not only eco-friendlier than any other resource you can think of, Lundblad claims that these fuel cell chargers are faster and more reliable than solar chargers.
If you are at - Shut up and Take My Money - already, let me tell you that MyFC does plan to open an on-line shop for its MyFC PowerTrekk product. The product is already being bought by enthusiasts in China, Japan, the US and Europe.
Posted in:
#Coffee Room
how does the hydrogen gas is produced without giving any kind of energy???????????????
what is the role of power pukk ?
from where it's take energy for initiation of chemical reaction?
please answer these questions??????????????
As always, it seems, there's a good explanation at Wikipedia:
https://en.wikipedia.org/wiki/Fuel_cell
I question the value of this. If one hockey puck gives you less than a full charge, and you have to carry the plastic apparatus with you also, it seems like it would be easier (less mass, less volume, less time) and more economical (less money) to carry several spare fully charged batteries. I'll bet those hockey pucks aren't cheap.
And what does "recyclable" mean? Does it mean you can buy some more solid chemicals to refill it (for how much?), or that you can toss it in your curbside recycling bin?