Home

>

Apps

>

Groups

>
MyCALL Android App from TRAI to help it monitor call quality and networks
Question asked by Kaustubh Katdare in #Gadgets on Jun 5, 2017
The Telecom Regulatory Authority of India (TRAI) has just launched its MyCALL Android app on Google Play Store. Once the app is installed on the phone, users can rate their call quality and overall network experience in real time, right after the call. TRAI will then gather this data to build its intelligence about the performance of various networks operating in India. The app is a part of TRAI's initiative to improve the overall Quality of Services (QoS) offered by telecom providers.
TRAI chairman, Mr. R.S. Sharma informed the media that the app will let users decide how many calls they want to rate. The ratings will be based on number of stars from one to five. One star would indicate poor rating while five starts will indicate excellent rating of the call. He further said that the app makes use of crowdsourcing to gather data. Even if small fraction of billion plus mobile users in India provide feedback, it will be very good, usable data.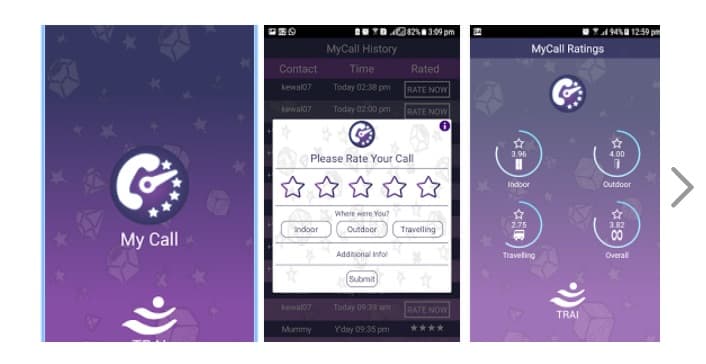 ​
Key features of the app, as listed on Play Store include but not limited to real time immediately after the call, historical gathering of data, map-based feedback, support for Hindi language. Users will also be able to mark the call as 'dropped' or indicate poor network performance.
While there aren't any direct benefits of the app to the end-users; TRAI says that users will be able to help TRAI and telecom services providers improve the quality of their network. Those of you interested in installing the app will need smartphones with Android 4.0.3 or above. If you install the app, do share your feedback with us.
Source:
Google Play Store
Posted in:
#Gadgets