Home

>

Apps

>

Groups

>
Maxx MX100 Leader Features & Price Unveiled Besides Karbonn Titanium X & Lava Iris Phones
Question asked by Ankita Katdare in #Gadgets on Dec 5, 2013
Maxx Mobiles has launched a new feature phone at dirt cheap price targeted at rural markets in India with - Maxx MX100 Leader Feature phone. In fact, Telecom Minister Kapil Sibal and State Communication and IT Ministers, Milind Deora and Kruparani Killi launched three other smartphones from Karbonn and Lava International at the Telecom Exhibition 2013 in New Delhi. Let us take a look at the features, tech specs and price of all four phones one by one.
The Maxx MX100 Leader features a 4400mAh battery that can also be used as a power bank to charge other phones and can last 3-4 days of usage - shared the company officials. The feature phone's tech specs speak of an in-built LED torch, a digital camera (unspecified megapixels), a MP3/MP4 player and a FM Radio. The Maxx MX100 Leader is a dual-SIM phone and also includes GPRS as well as Bluetooth connectivity option. The phone can support up to 16GB of expandable storage, however there is now word about the inbuilt storage. The company claims that the MX100 Leader's sturdy exterior can protect the phone from dust and water to a certain extent. Bearing a price tag of Rs. 1,932 - the MX100 Leader is surely a phone for the budget-conscious India who just want a phone that can dial calls.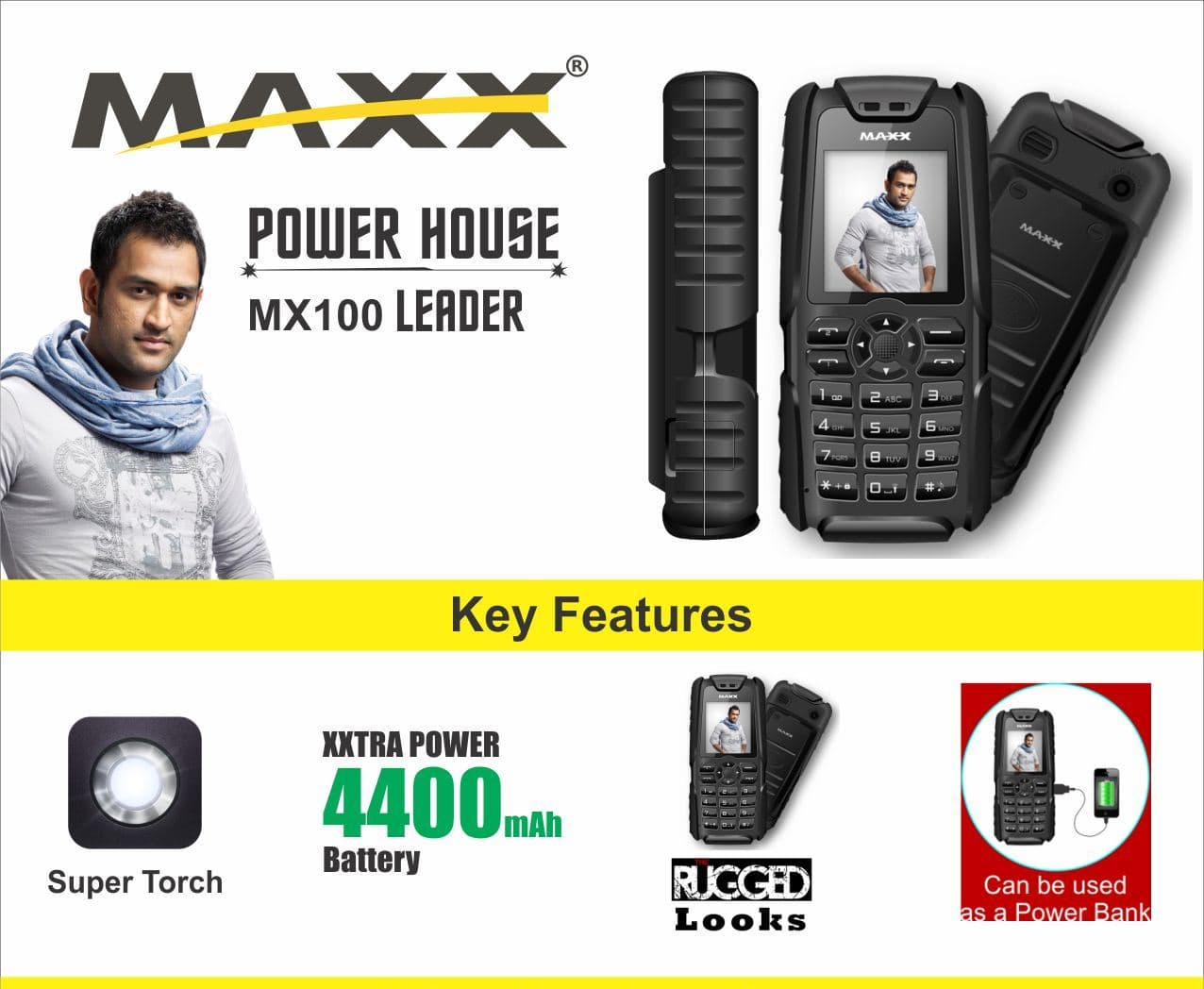 ​
Commenting on the launch, Ajjay Agarwal, CMD and Founder, Maxx Mobile said "Mobile phones have become the most ubiquitous mode of communication today and have spread to almost every nook and corner of the country. We believe this specially designed feature phone will introduce as many consumers to the mobile ecosystem as possible. Now, our consumers can possess a quality mobile with all the features which are essential for the demographics of the rural market, at a reasonable price."
Krishna Singh, COO, Maxx Mobile said, "The current mobile handset penetration in rural India is less than 40%. We are aware of the great potential which lies in these markets. It is for this reason that we have paid special attention to the specific requirements of our consumers who hail from semi-urban and interior parts of India and tailor made the MX100 Leader."
Apart from the Maxx feature phone, two other major launches yesterday were -
Karbonn Titanium X
and
Lava Iris 503 and 402
. The Karbonn Titanium X has a FHD IPS Display with 1920x1080 pixel resolution. Sporting a tagline that reads - "A chance to enhance" on its promotional banner, the phone features Android 4.2 Jelly Bean operating system, bears a 13 megapixel camera with auto-focus and dual-LED flash, and comes powered by the 1.5GHz Quad Core processor. The official price tag for the phone is Rs. 18,490. Whereas, the Lava IRIS 503 smartphone is priced at Rs. 9,999 and is available on Flipkart at a discounted price of Rs. 8599. Whereas the Lava IRIS 402 is priced at Rs. 5,499 and is available on Flipkart at a Rs. 200 discount.
How do you like the set of new phones in Indian market? Share your thoughts with us in comments.
Posted in:
#Gadgets
4400 mAh! That sort of battery power should also be available in a smartphone.
Thinking about the frequent power-cuts in some rural areas this looks like a good option.