From the Archives
Archived discussions on CrazyEngineers
@Ankita Katdare • 06 Nov, 2013 • 1 like
Mahindra & Mahindra has launched the Mahindra W4 - XUV500 model today as the entry-level variant of its popular car XUV500. With a price tag of Rs. 10.95 lakh (ex-showroom, Delhi), the Mahindra W4 is powered by a a 2.2 litre mHawk140 engine that delivers an output of 140bhp and an impressive torque of 330Nm. The 5th generation variable turbocharger ensures acceleration from 0-60kmph in a mere 5.4 seconds. The company also boasts of a 15.1 KM per litre (ARAI) fuel efficiency. The XUV500 features the first 6-speed transmision fully developed and tested in India and enables two overdrives.

With its powerful build and feline grace, the cheetah-inspired XUV500 emerged from a careful study of the African wildcat of the same name. A first in a series of next ten global SUVs from Mahindra, the XUV500 W4 is manufactured at the development facility of Mahindra Research Valley in Chennai, India. The XUV500 is also the country's first indigenously developed monocoque SUV with the first transverse engine. Other unique features of the XUV500 include Hill Descent and Hill hold control, Dual Mass Flywheel, interactive torque management, GPS-enabled touchscreen infotainment system with blue sense, Electronic Stability program etc. among others. Available in four models, W8 All Wheel Drive (AWD), W8 Front Wheel Drive (FWD), W6 FWD and W4 FWD - the XUV500 W4 is a car with a lot of style and sense.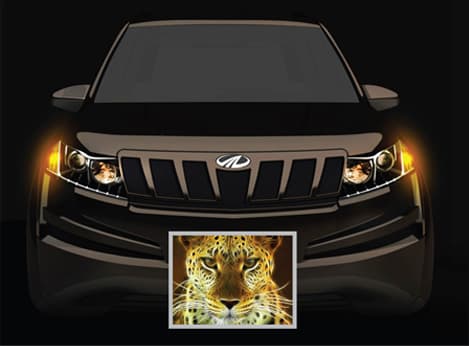 ​
Speaking on the launch of the W4 model of the XUV500, Dr Pawan Goenka, Executive Director & President, Automotive & Farm Equipment Sectors, Mahindra & Mahindra Ltd. said, "The XUV500 has resonated very well with our customers since its launch and has since become a trendsetter within the Indian automotive industry. With over 74,000 vehicles on the road within two years of launch, the XUV500 is one of our most successful launches. As a customer centric organisation, we have incorporated customer feedback at every step and evolved and today's W4 model launch bears testimony to the same".

Pravin Shah, Chief Executive, Automotive Division, Mahindra & Mahindra Ltd. said, "Since its launch in 2011, the XUV500 has carved a special niche for itself in the minds of Indian consumers. The launch of the W4 model makes the XUV500 proposition accessible to more customers who aspire to be proud owners of the cheetah-inspired XUV500. Inspite of being an entry level model of the XUV500, the W4 model is technology laden and with this launch, we aim to attract sedan & compact SUV buyers who wish to upgrade to the XUV500".

Some of the key features of the W4 model are - Projector Head lamps with LED lamps, Side Impact Beams, Crash Protection with Crumple zones, All wheels disc brakes. For comfort and convenience of the passengers, the XUV500 features Twin HVAC, Power & Tilt Steering, Power Adjustable ORVMs, 6-way adjustable Driver seats and Fully foldable 2nd & 3rd row seats. That's all about the features and specs. How do you like the all new Mahindra W4 XUV500?

@Ankita Katdare • 06 Nov, 2013
The company has also put up an official Making-of-XUV500 video on YouTube. Check it out here:
Related Posts
Archives
@Ankita Katdare · Sep 29, 2014
Gionee India has done basking in the glory of its Elife S5.5 smartphone that became popular for its slogan 'More Than Slim'. Today it has launched a new Android Kitkat...
Archives
Hello all , I want to know what is meant by a coupling capacitor? I googled up to find that In analog circuits, a coupling capacitor is used to connect...
Archives
@brave patel · Aug 15, 2015
Hi friends, I need some ideas 4 my mechatronics mini project send me topic plzzzz....
Archives
@Ankita Katdare · Feb 4, 2015
Breaking barriers and limits to the reach, a team of researchers from University College London (UCL) have come up with a method that could process fibre optic signals such that...
Archives
@Ankita Katdare · Jun 10, 2014
A team of engineering researchers from the Edward S. Rogers Sr. Department of Electrical & Computer Engineering at the University of Toronto has developed a new technology that can lead...