Home

>

Apps

>

Groups

>
Macbook Air With Haswell Processor Now Available In India - Prices Revealed
Question asked by Ankita Katdare in #Electronics on Jun 30, 2013
Apple Inc. has now brought the new Macbook Air powered by Intel's 4th generation Haswell processor in India. Last month, the Worldwide Developers Conference (WWDC) 2013 witnessed the
unveiling of the updated versions of MacBook Air
that run over OS X Mountain Lion. Now available in retail stores across India, the 11-inch and 13-inch models of the Macbook Air, that are capable of up to 9 hours and 12 hours of battery life respectively thanks to the built-in lithium-polymer battery, will start selling like hot cakes. The fourth-generation 1.3GHz dual-core Intel Core i5 (Turbo Boost up to 2.6GHz) processor that runs these Macbooks is coupled with 3 MB shared L3 cache alongside 4GB RAM, and boast dual-microphones, a faster 802.11ac Wi-Fi for improved performance and support for Bluetooth 4.0.
The common features that stick to both of these models include the LED backlit display, a Backlit keyboard, a multi-touch trackpad, a 720p FaceTime HD camera and the Intel HD Graphics 5000 engine, which is 40 percent more faster than the current notebook models. Therer are two USB 3.0 ports and 1 Thunderbolt port included in all variants, with the 13-inch MacBook Air also coming with a SDXC card slot.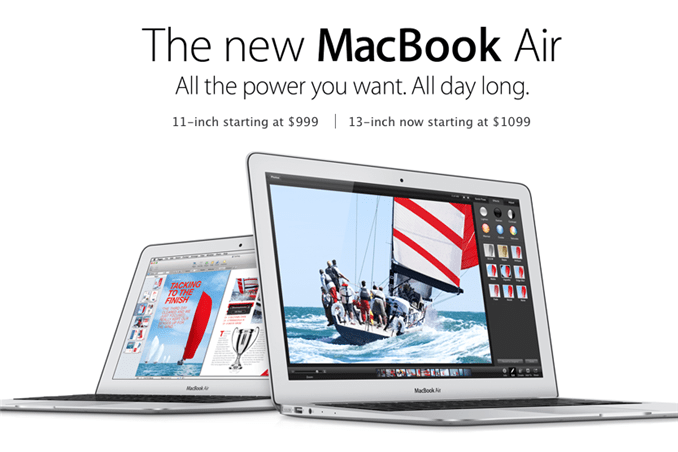 ​
Though a lot of speculation has been going on with the pricing front, now we have the official figures in hand. We took a peek at the pricing details of these Macbook Air, and found that he 11-inch MacBook Air with 128GB SSD storage (an improvement on the 64 GB of its predecessor) is priced at Rs. 67,900 and the one with 256 GB storage is priced at Rs. 81,900. While, the 13-inch MacBook Air with 128 GB storage is available for Rs. 74,900 and Rs. 88,900 for the 256 GB one. Interestingly, these MacBook Air models are also available under the Back to School discounts that Apple announced on some of the other Mac desktops and laptops earlier. The Back to School discounts for eligible students and teachers are Rs. 8,000 on the 11-inch base model, and go up to Rs. 11,000 on pricier models.
It was only a few days ago that the Haswell processor, the successor to Ivy Bridge processors, was launched in India. For consumers who assemble their own systems, Intel will sell boxed Haswell processor. The top end chips, dubbed Core i7 4770 and Core i7 4770K, are already available in the Indian market with a price of around Rs 20,000. Core i5 4430, which is a mainstream processor, is more affordable with a price of around Rs 12,500.
Posted in:
#Electronics
Interesting! Why would school students prefer Macbooks over other Windows based systems which are more in sync with their school curriculum? And what is the eligibility category for a student to avail this offer? It would make some sense if this offer were given to college students as well! Or does it apply for both?
Student discount is 6% if I remember correctly, Its available for all school and college students.

Macbook airs of haswell generation have upto 13 hour battery life, They can run office and mostly everything else under the sun. Plus they're fast, reliable, relatively rugged, slim and light. You need another reason to pick one up?

And ya, Windows/Macs have nothing to do with the school curriculum. They're just operating systems and both have their strengths and weaknesses. I've switched to a Mac and haven't looked back since. 😀
The latest MacBook air has a freaking Wi-Fi connectivity issues; especially in the 'ac' mode. I'd rather wait for Apple to send a new batch before even setting my eyes on it. 9-13 hours of battery is much desirable.
AC mode isn't relevant in India AFAIK, plus only a handful of air's were affected and apple knows this and is working on a fix so you can go ahead and pick one with complete ease. Warranty is there to take care of any issues and I hear apple is very pro active with after sales although I have yet to experience it personally which I hope I never have to. This also speaks highly about the quality of their products.