Logitech K400 Plus Keyboard Launched In India
Logitech has launched K400 Plus keyboard in India with a price tag of Rs. 3695. The keyboard is meant for those who connect their laptops to the TV to watch content on a bigger screen. The keyboard wirelessly pairs with your computer and lets you control on screen stuff from as far as 10 meters. Do you want to watch a YouTube video on your TV? Simply connect your laptops's output to your TV and use K400 Plus keyboard to control your computer.
The K400 Plus wireless keyboard is equipped with a touchpad that makes it easy and intuitive to control the screen. The keyboard offers a slim design, making it extremely portable and lightweight. It offers rounded edge so that even kids can operate it on their own.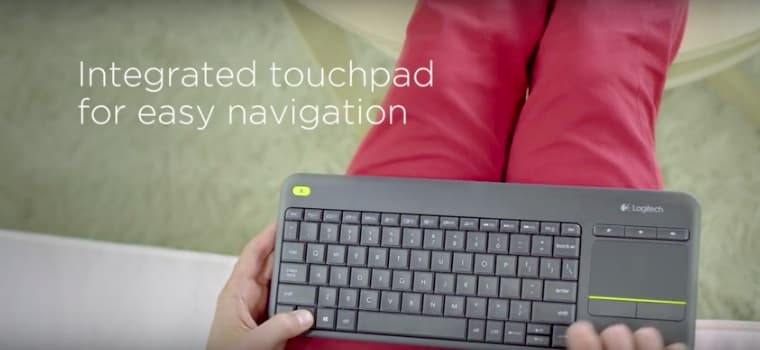 ​
Logitech mentions that the keyboard has an adjustable cursor control and shortcut buttons for the most commonly used functions. Inbuilt batteries are rated to deliver about 18 months of power backup on regular use.
The K400 Plus is designed to be used with laptops running Windows 7 or higher, Chrome OS, Android Lollipop+. It's not clear whether the keyboard will have support for the machines running Linux.
Logitech executive, Ashok Jangra informed the media that the company has seen how Indian consumers are leaning towards connectivity. The K400 Plus product caters to the segment that connects their laptop computers to the TVs to enjoy Internet and general work on bigger screen. The company has released a video demonstration of the product. Check it out -
Do let us know your thoughts and opinion about K400 Plus keyboard.
Source:
NDTV
Update: At first I thought this would not be a product I'd use; but on a second thought, this would be an interesting product if you work from home. Sometimes, you just want to relax on your couch and have access to the PPT or Excel sheet you are editing. You can have it all displayed on your TV's big screen.

I've done that many times using my Apple Keyboard; and I absolutely love it.
Only logged in users can reply.