Home

>

Apps

>

Groups

>
Japan's ROBEAR - A Nursing Care Robot Developed By RIKEN And Sumitomo Riko
Question asked by Ankita Katdare in #Robotics on Feb 24, 2015
If you had a recent trip to a hospital nearby for someone close to you who was admitted there, you are familiar with the scent in the hospital air, the hurried footsteps of nurses and someone being taken up and down on a stretcher. Medical care is something that requires years of training and most people know the value of being treated by a professional. Well, like always, well ahead of the world, the Japanese have thought of letting robotics enter the field of nursing & medical care. A team of researchers from Sumitomo Riko Company and RIKEN have developed a new robot named ROBEAR (Robotic Bear) who can assist patients in getting up or laying down and even lift a patient from a bed into a wheelchair.
Care-giving is a field that requires a lot of personal attention and softness of touch when it comes to dealing with patients suffering from diseases. Japan's ROBEAR can be converted into a series of robots who want to be useful assistants for doctors in helping the patients with as much care and concern as a trained nurse would.
The problem seems more relevant in countries that are quickly approaching an increased elderly population situation. In Japan, as more and more elderly people take resort in hospitals for various medical care facilities, the personnel employed for taking their care have to undergo the strenuous task of lifting the patients from bed, wheelchair, toilet seats etc. at least 40 times a day. This has led to become a major reason behind lower back pain. Taking notice of this problem, the research engineers from RIKEN-SRK Collaboration Center for Human-Interactive Robot Research in Nagoya developed the new ROBEAR robot.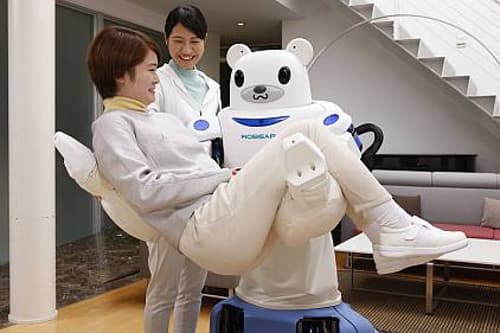 ​
Coming to the technical aspects of the ROBEAR, here we have a 140 kg bot that is capable of executing a lot of features in a gentle and friendly way. It comes with several low gear ratio actuator units that provide for quick and precise joint movements and make way for softer movements, thanks to the backdrivability feature, which feeds back the force encountered by the actuators into the system. Featuring torque sensors and Smart Rubber capacitance-type tactile sensors, further ensure gentle movements so that it the ROBEAR can swiftly perform power-intensive tasks without causing harm to the patient in any way.
The ROBEAR comes with extended legs that can be retracted when necessary to be able to manoeuvre through tight spaces such as doorways comfortably. Take a look at the following video to see the Japanese ROBEAR in action -
What are your thoughts about such a robotic bear taking care of you and you near ones at their next hospital visit? Share with us in comments below.
Source:
RIKEN
Posted in:
#Robotics