Home

>

Apps

>

Groups

>
How to install facebook home on any android phone or tablet?
Question asked by Kaustubh Katdare in #Gadgets on Apr 13, 2013
Facebook was being very selective in announcing the gadgets that can run latest facebook home app. However, MoDaCo founder Paul O'Brian has come up with simple steps that describe how to install facebook home on any android phone or tablet. The process is very simple, so give it a try -
1. Install Facebook Main App, Messenger & home application.
2. Now download and install the patched
Facebook Main app
(katana) and patched
messenger app
, and then the final patched
Facebook Home app
.
3. Sign in and then in the Facebook apps' settings menu, notice the Facebook Home option should appear.
4. Check it and enjoy Facebook home on your Android phone.
Basically, the patched app eliminates the device check that FB home app implements. If you try this out, do share how the app works for you.
Source
:
https://www.modaco.com/topic/361924-facebook-home-download-including-patched-apk-version/
Posted in:
#Gadgets
For above some people are reporting "Not supported device".
Here is full and final from XDA 👍
[MOD] Facebook Home "unlocked" + *working* chat heads & SMS [NO ROOT!]
Working as advertised but it require high end phone. the high end phone, more smooth the app will be.
Got to say... It really looks cool☕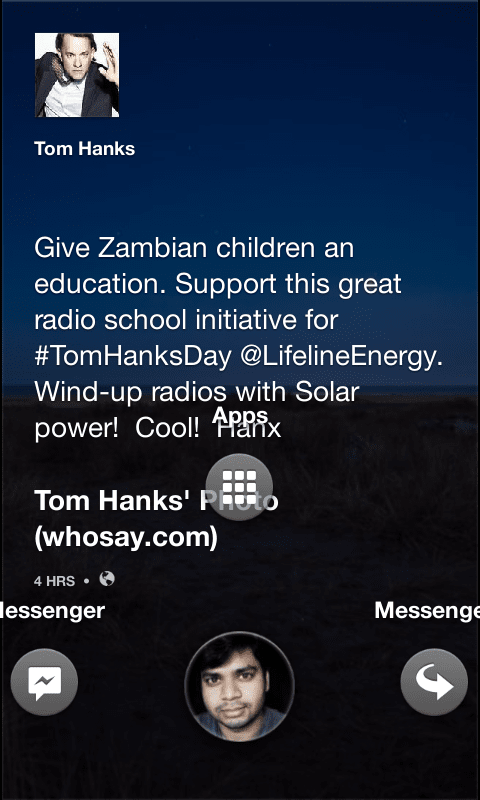 Edit:
Review: This is for people who use only facebook on smartphone👀. you need to give-up your home screen and only Facebook posts , messenger+phone sms, notification bar(if you want) will be available. rest apps you need to access from all apps option.
Nothing innovative... It just a bad theme for device. photo in circle is copied from google+, selecting options by holding profile pic is copied from jellybean lock screen.
I think FB Home is flop - just like their own introduction video. Do I really want to see photos from friends on my phone's home screen? Not really. Maybe a small widget to do the same would be better.
Facebook Home turns your homescreen into a scrollable timeline taking away functionality of widgets. I have tested the app and trust me it takes a lot of data. Also, while FB Home is running, FB Messenger and the Facebook app are also running, which is really bad for phones with low RAM. The worst part is, to make a call or message someone, I need to clear out from the homescreen and then get to the phone app.

There aren't many users who are on Facebook all day long. Such people would only use this app for maybe a week and themselves would delete it out. Facebook needs to work on their existing buggy app rather than building new ones.
Facebook home app is good for those who thrive on Facebook newsfeeds. I use FB for games and the idea of having FB on my homescreen is not appealing for me.