CrazyEngineers V4: Early Access
We are developing the next version of CrazyEngineers. If you wish to receive latest updates and early access, click the link below.
Home

>

Apps

>

Groups

>
Honda Activa 3G - All You Want To Know About The Facelifted Scooter
Question asked by Ankita Katdare in #Coffee Room on Feb 7, 2015
If you are frequent commuter on the Indian roads, you might agree with us when we say that, over the last decade Honda Activa has been one of the most popular choice among two wheeler riders. Since its arrival in 2001, Honda's Activa has been leading on the list of best automatic scooters in the market. Well, for the year 2015-16, Honda Motorcycle & Scooter India Pvt. Ltd, the company behind the popular Honda automobiles in the country, has shared exciting plans for a range of its vehicles. One such vehicle that's getting an interesting facelift is India's beloved Activa scooter, which is now being rebranded as ACTIVA 3G (signifying the 3rd generation design). Chosen by millions of riders across India, Honda Activa is being launched with a newly styled design and a new set of additional features. Let's find out what's new and what's not.
Priced at Rs. 48,852 (Ex-showroom, Delhi), the new 2015 Honda Activa 3G model receives a new next-gen styling with a premium 3D emblem, new edge side panels, winkers to catch your eye and a bolder front look. Adding up to the new look is a modern-looking tail light and a progressive meter. You can see the 3D version of the Honda Activa 3G logo in the image below.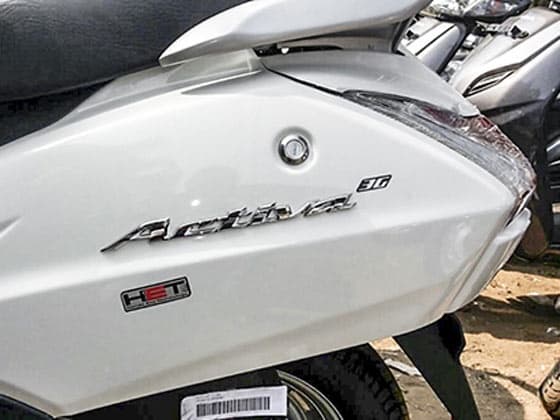 Image Credit: Overdrive
​
Powered by a 110 cc engine (HET) that offers 8PS power and 8.74nm torque, the new Honda Activa 3G is said to offer a mileage of ~ 60 kmpl (measured while internal testing). As far as the features are concerned, there's nothing much new apart from a longer and wider seat. There's enough foot space, tubeless tyres, Combined Braking System (CBS), full metal body and a key lock shutter. Launched in 5 exciting colors - White, Black, Blue, Red and Grey, the Honda Activa 3G is definitely going to stand out when compared to previous variants.
What are your thoughts on the latest scooter in town? Share your thoughts with us in comments below.
Source:
Honda India Press Release
Posted in:
#Coffee Room
It could just be my personal opinion but TVS Zest is 'the two wheeler' to buy. Let's see how the market responds to the new activa.
Its time now for Honda to Upgrade its Model think of something new to be a chart leader in Scooter Segment. Just By putting a [HASHTAG]#3G[/HASHTAG] Logo Won't now because the competition is fierce & Cometitiors Like Suzuki , TVS & Mahindra are Building some very Good Scooters.
P.S: In Recent Times the Scooter which I Got attracted towards is the
Mahindra Gusto
with some most innovative features.
As our Vikram bro said, Only facelifts wont attract new customers.We want features upgrade and new innovative techs to increase safety, performance and reliability.
i never find any new in the activa 3g...
I think the TVS Jupiter and TVS Zest are quite in demand these days. Honda is on a spree of renewing its old Honda Activa, thinking that a whole lot of market is turning towards the Piaggio scooters (for their different looks). But as rightly pointed out by others above, facelifts aren't going to work. TVS is still very, very popular with their sleeker models.