Home

>

Apps

>

Groups

>
Gujarat e-Nagar Project : 53 Towns To Get Wi-Fi HotSpots
Question asked by Kaustubh Katdare in #Coffee Room on Feb 27, 2014
[HASHTAG]#NaMo[/HASHTAG] has launched e-Nagar project in Gujarat. The project begins with setting up high-speed wireless hotspots at about 8 locations in Ahmedabad. The project will then expand to creating Wi-Fi zones across 53 towns in the state of Gujarat. During his inaugural speech (video below), Modi said that he dreams of a Digital India and the e-Nagar project is one of the first steps in that direction. As of now, there's no clear information available on the timeline this project will follow and the technology partners involved. The project however seems to be in sync with BJP's 2012 election manifesto that promised to setup state-wide wireless zones at public places and business centres.
e-Nagar project will ensure that 5 municipalities will be linked together for better governance. In addition, the project will ensure that there's a central web-portal for all the information about the services being offered. A mobile application will soon be released which will let people use these services through their handsets and even make tax payment easier. 'e-Ward' initiative, which is currently operational at Rajkot Municipal Corporation will deliver digital signatures and birth certificates digitally.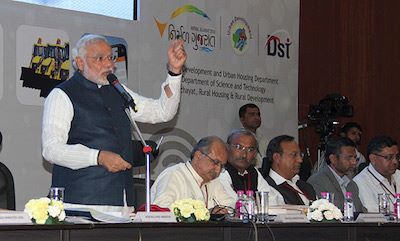 Photo Via:
Facebook
​
The e-Nagar project will also allow real-time mapping of the BRTS buses. The commuters will be able to get the exact timings and status of the buses and know which bus arrives next and in what time. A similar project was taking up by Indian Railways to inform the travellers about the
status of the trains
. We promise to keep you posted about the development of this project.
It's interesting to note that Gujarat isn't the only state that's taking similar initiatives. Just a few days ago, Bihar announced the 'world's longest' free Wi-Fi enabled road, stretching about 20 km from NIT Patna to Danapur Town. The Indian government too announced that it will make all the village panchayats connected to the Internet, with an overall budget of Rs. 25,000 crore; but we have no update on the status of the project.
We look forward to your opinions and thoughts on the e-Nagar project. In the mean time, check out Narendra Modi inaugurating the project:-
Via:
Medianama
Posted in:
#Coffee Room
No comments yet? I personally think such projects should be encouraged because they're going to be massively useful in building up a framework for - better businesses, better communication, better services and better connectivity. India can't aim to be a super-power without building better Internet along with better roads and infrastructure.
Does this mean free internet wifi connection?
Issue

Does this mean free internet wifi connection?
Mostly yes. I guess users will have to authenticate themselves before they can use free wi-fi.