Home

>

Apps

>

Groups

>
Fighting Antimicrobial Resistance With A Smartphone Could Soon Be A Reality, Thanks To UCLA Research
Question asked by Debasmita Banerjee in #Gadgets on Dec 19, 2016
When the scientific communities around the globe point towards the technological singularity, the growth in research seems to misfit the expectations. The coupling of medical science with engineering has generated a keen interest to explore the benefit. Adding more ingredients, a research team at UCLA has developed an automated diagnostic test reader that examines antimicrobial resistance in our body integrating a smartphone. The pragmatic tool will help change the statistic of global public health which shows a striking severity and high inclination towards high-mortality diseases such as pneumonia, diarrhea, and sepsis.
The diagnostic tool is an alternative to the lab-based method. The research group explains, the antimicrobial susceptibility testing requires medical tests which impose hardships on people living in areas without hospitals or diagnostic centers. This not only minimizes the requirement but also makes one independent of infrastructure and other economic factors. Visioning the change, the research group fabricated a smartphone tool attachment that can provide accurate results using very limited resources including a smartphone.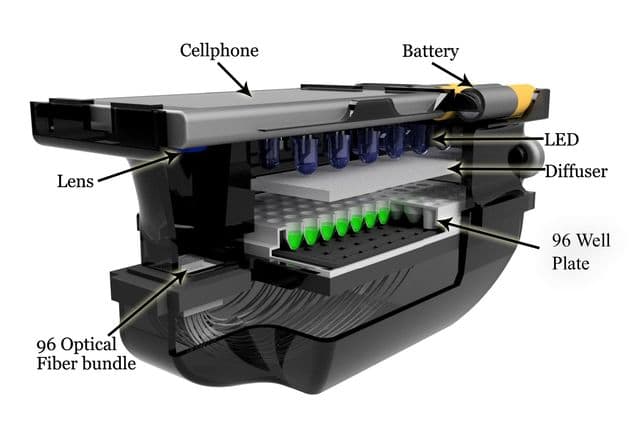 The Tool In The Research
​
According to Aydogan Ozcan, Chancellor's Professor of Electrical Engineering and Bioengineering at the UCLA Henry Samueli School of Engineering and Applied Science, in several beta testing, the tool has given precise results compared to the conventional methods which further proves its usability in areas devoid of facilities.
The collaborative project involving a team from the laboratory medicine in Health Sciences is powered by a smartphone and consists of a 96 well plate connected to a chamber in the system. Between the phone and the sample, an array of LEDs are placed which with the help of the phone camera can measure the light transmission difference posing a difference in measurement due to contrast in concentration. The captured images are then sent and processed in a server which comes up with the result in a minute.
The prototype results were then matched with UCLA lab-based methods that have shown, the results from the tool were 98.2 accurate. The samples included 17 different antibiotics targeting Klebsiella pneumonia, a bacteria that shows highly resistant antimicrobial profile. The results were depicted in either susceptible or resistant format where susceptible tag implied that the organisms causing the disease would respond to therapy whereas the resistant tag implied otherwise with the tested concentration of the drug. The research was supported by National Science Foundation and the Howard Hughes Medical Institute and has been published in the journal Scientific Reports.
Source:
UCLA
Posted in:
#Gadgets