Home

>

Apps

>

Groups

>
Facebook For iOS Update Features Adding Photos To Comments, Ability To Edit Comments & More
Question asked by Ankita Katdare in #Gadgets on Oct 18, 2013
Facebook iOS app update is here. With the update version 6.6, Facebook has taken a step closer to bringing all the functionality that the Facebook desktop mode offers. The latest update to Facebook app on iOS features ability to add photos to comments and also edit statuses or comments from any iOS device running on iOS 6.0 and later. iPhone and iPad users will surely be relieved to have all the new features for Facebook apps. There's the usual bug fixes and option of expressing yourself with icons when you post to someone's timeline and getting to privacy shortcuts by tapping the lock by your name in the main menu.
One of the other major changes that the updated Facebook for iOS app brings is a new way to get to Privacy Settings. While the option is still present prominently under the 'More' tab, Facebook now also displays a lock symbol with the user's name tapping on which opens the Privacy Settings similar to how Facebook displays this symbol in the web version. The updated app has brought a more iOS-like navigation with a new bar at the bottom of the app, that features buttons for News feed, Friend Requests, messages, notifications, and a More button that offers a menu which was previously included in a sliding pane at the left hand, a feature that some people also call the Hamburger menu.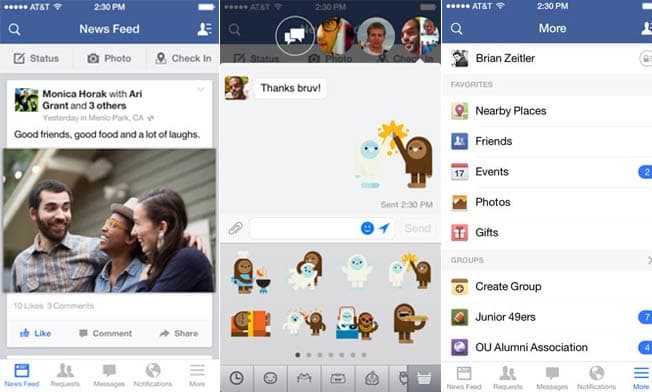 ​
That's all about the features that this update brings. You can go ahead and download the Facebook for iOS update from
App Store
right away. We await your reviews and comments in replies below.
Posted in:
#Gadgets
I am not a iphone user but i had tried and tired of using Facebook on my android powered smartphone and especially while using 2G network.I hate fb app for android as it takes too much timewhen compared to usage by opera or phone browser.Anyone out here experiencing same problem?