Home

>

Apps

>

Groups

>
Engineers Propose New Technique To Rebuild Earthquake Hit Bridges In A Speedy Manner
Question asked by Debasmita Banerjee in #Coffee Room on Apr 29, 2016
Recently, we have witnessed a sharp rise in earthquake occurrences that have caused devastation on earth. Early detection with the newly launched application "MyShake" has provided a probable solution to minimize losses, but after-earthquake effects are still a major concern. Now, the workload would be heavily reduced with the latest method devised by Chris Pantelides and his team from the University of Utah.
The group of Civil and Environmental Engineering has come up with a novel method to repair bridge columns in a few days time, something which used to take months previously. According to the team, the advanced procedure will help the authority to rebuild the city and clear the roadways for emergency transports.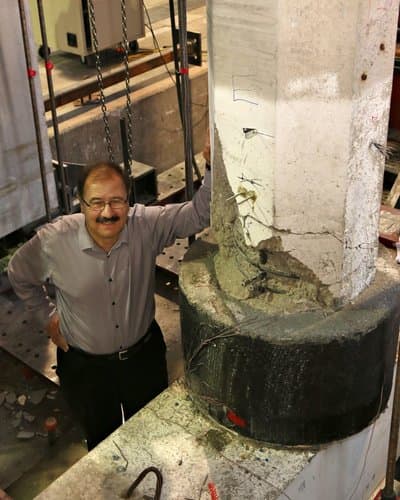 ​
In an earthquake prone area,bridges are designed to withstand the chief impact at the top and bottom of vertical columns where they intersect with the horizontal columns. After an earthquake, if a bridge still survives, the columns with broken rebars become very fragile and are unable to withstand load. A repairable concrete demands replacements of the steel rebars and are treated with new concrete, with the steel cast being placed around the column.
However, the procedure takes weeks to get finished and the flow of traffic gets hampered. The group came up with a quicker and cheaper method which requires concrete donuts known as "repairs" to be horizontally placed with carbon composite polymer fiber. The material is built to encompass both the top and bottom parts off the pillar.
Talking about the procedure, at first the new steel rebars are drilled and connected with the foundation of the column, with the help of epoxy. Thereafter, the two halves of the circular shell consisting of the composite material are set around the column and rebar, and joined together. Depending on the composite mold, concrete is poured around the column and on the rebar which results in a completely repaired column.
Pantelides explained that their method used the donut to provide extra strength to the column which not only repairs it but also, the distributed stress helps it to survive future earthquake damages. This method is also suitable for building new bridges and houses. The detailed report has been published in the American Concrete Institute Structural Journal.
Source:
University of Utah
Posted in:
#Coffee Room